Four students cook off to state competition
Seniors Kodi Hicks and Kadenze Mowry, junior Jacie Guerrero and sophomore Berdena De Groot advance to state at Texas A&M in June of 2021 after competing and winning first place in the District 4-H Food Challenge.
The competition took place at the Rex Baxter building on Wednesday, Oct. 21. The challenge consists of two parts: cooking and judging. Students are given 40 minutes to prepare a meal using an ingredient designated to the team. Participants are then judged based on their culinary ability, as well as their knowledge of nutrition and sanitation.
"It is like the show 'Chopped'," Mowry said. "They give you a bag, and in that bag, you don't know what it is. So, we got shrimp and made a quesadilla."
The teams are given contest currency to use at the "grocery store" and a list of ingredients to choose what they will use for their dish. 
"
Whenever we open the bag, we instantly start brainstorming what we're going to do."
— Kodi Hicks, 12
"I don't like shrimp, and I did not know what we were going to do," Hicks said. "We were looking at the list, we saw different ingredients for quesadillas and decided to go with that. We wanted to do shrimp alfredo, but we didn't have enough money for the ingredients we needed, so we ended up settling on quesadillas." 
After time is up, the competitors answer questions about food preparation, consumer information, and storage and kitchen safety. Later, during the competition, the teams explain aspects about their dish for a judge, such as its nutritional value and potential healthy substitutions. They also explain how they made the meal and how much it costs. 
"I'm in charge of the nutrition, so I'm in charge of talking about what is in the dish and how it's good for you," Hicks said. "I have to write on a card because I don't have it completely memorized. Things like the fact that the shrimp is protein, and the protein helps your body build blood, the nitty gritty facts that you have to memorize."
The teammates have different roles within the group during the competition some people are in charge of memorizing facts about the food itself and others about the importance of serving size.
"Whenever we open the bag, we instantly start brainstorming what we're going to do," Hicks said. "Once we figure it out, we all work together, but also independently. Berdena cut the onion while I cooked the shrimp. Kadenze was in charge of food safety and knife safety, I was in charge of the nutrition, Jacie was in charge of steps and Berdena was in charge of the price and serving amount."
"
We were really surprised when we won, but we've been doing it for so long, it was kind of easy."
— Kadenze Mowry, 12
Hicks, Mowry, Guerrero and De Groot received aprons and medals as prizes for advancing in the competition.
"We only practiced one time because Kodi, Jacie and Berdena are all in band," Mowry said. "Fridays are my only days off work. And usually, they have [football] games Friday. We were really surprised when we won, but we've been doing it for so long, it was kind of easy." 
There are four categories of meals in the competition. Students can participate in the main dish, side dish, fruits and vegetables and healthy snack categories. The competitors grade level determines what level they compete in, with the older students participating in the more complicated categories, like main dish. 
"There were probably about 30 teams there," Hicks said. "There were different categories, and within our category there were four or five that competed."
For Hicks and Mowry, this is their last year to compete with the team after being involved with 4-H since elementary school.
"I was kind of sad looking at Berdena and Jacie, and realizing they have more years to do this," Hicks said. "Then we found out we got first and it's not our last time. We have one more shot, which is cool." 
Leave a Comment
About the Contributor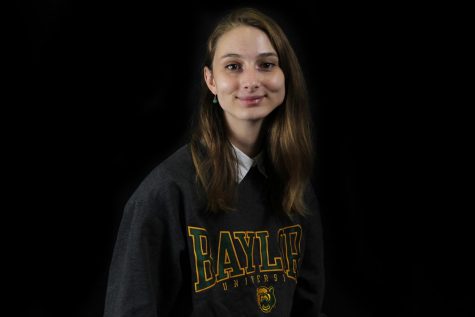 Charlie Clark, Staff Reporter
Hello! My name is Charlie Clark. I am a junior, and this will be my second year on staff here with The Eagle's Tale. Outside of journalism, I play saxophone and piano, and I also participate in Science Bowl and UIL Science teams. I can frequently be found...