Gilliland named 'Administrator of the Year' for state journalism association
Principal Tim Gilliland was awarded the Texas Association of Journalism Educators Administrator of the Year Award May 6 in Austin during the state Interscholastic League Press Conference Convention.
Gilliland was nominated by journalism teacher Laura Smith and selected for the award by a panel of journalism educators from across the state. The award recognizes outstanding support for scholastic journalism.
"It's a great honor for me, but I feel like it's an honor for Canyon High School and for Laura Smith and all of her students," Gilliland said. "My big goal is to stay out of their way, because they do such a good job."
Gilliland said he considers the newspaper and yearbook to be important to the history of the school and has great faith in the journalism department.
"
It's a great honor for me, but I feel like it's an honor for Canyon High School and for Laura Smith and all of her students."
— Tim Gilliland
"The better working relationship that a principal has with the journalism teacher, the better that thing tends to go," Gilliland said. "It's important that both of them have a good perspective of what the community expects."
Gilliland said he values what the class teaches about respecting community beliefs but also appreciates the way the journalism department teaches how to separate honest journalism from misinformation. He said the award means more to him since it is his last year in education.
"It really is a neat way to go out," Gilliland said. "I kinda felt bad about going all the way to Austin to get that award, but after I saw everything they do to honor their kids and teachers, I was really glad I went."
TAJE supports journalism teachers and students statewide by providing ongoing support and education through workshops, conventions, contests and classroom resources. 
"The TAJE is a really tight-knit organization that is there to support all journalism," Gilliland said. "I think I received the award because our online newspaper is one of the best in the nation, but it also doesn't hurt to have a person like Laura Smith writing your nomination."
Leave a Comment
About the Contributor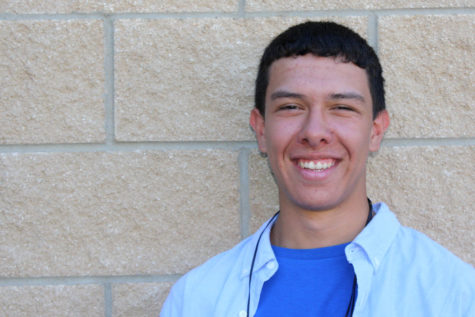 John Flatt, Video Editor
Hey there, I'm John Flatt, the video editor for The Eagle's Tale. I play the alto saxophone in the band, I'm an Eagle Scout, and I'm looking forward to spending this year with all my friends here on the newspaper staff.  I hope to entertain and...