Student musicians perform in Java and Jams Saturday, Jan. 30
Choir department showcases varied talents
Editor's Note: To account for the weather and provide seating, the Java and Jams event has been moved to the back side of Canyon High in the breeze way. Attendees are asked to park in the parking lot between the school and the gym and enter through the metal gate.
Students and staff can attend the free Java and Jams concert Saturday, Jan. 30 at 2 p.m. outside the main entrance of Canyon High. The choir department hosts the event and will showcase various acts from members of the ovation choir.
Attendees are encouraged to bring a lawn chair or blanket. Social distancing, along with masks are required. To fit with the relaxed and serene feel of the event, Palace Coffee will provide beverages with their coffee cart catering service, such as lattes, mochas and even hot chocolate. Assistant choir director Reece Kingcade said Java and Jams is a variety show with a coffeehouse environment.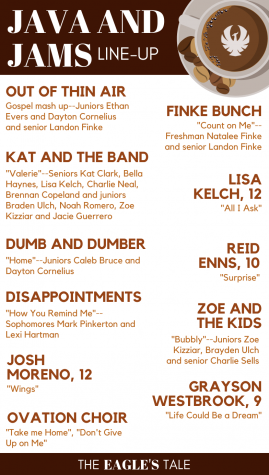 "This is not a typical choir concert," Kingcade said. "We have a lot of pop numbers, rock numbers–that kind of stuff. We have a couple of bands, a couple of solo acts, signature acts, karaoke. We're really excited about the acts this year. There are a lot of talented students who are going to be participating. We try to involve as many students as possible in a variety show setting."
Kingcade said the event should last about two hours at the most. Along with typical COVID-19 precautions, Kingcade said the choir department is ensuring the safety of attendees with changes to the event's structure from last year.
"Because it's outside, that gives us a lot more freedom," Kingcade said. "There's a smaller number of acts than there are in past years, so we are expecting a smaller crowd. We've taken precautions to make sure we can still have this concert, but stay safe as much as possible. Between each act, we'll make sure to take precautions and sanitize and stuff like that. Everybody's going to be masked on their way up to the stage and take the mask off on stage only while they're performing. This year has made us be creative about the ways we do things."
Junior Ethan Evers, a member of ovation choir, will perform with junior Dayton Cornelius and senior Landon Finke under the name "Out of Thin Air." The trio will perform a mashup of gospel music.
"We were practicing, practicing, practicing," Evers said. "Then, we eventually got it down. I feel like it's going to be a really fun environment overall, especially with it being outdoors. It's going to be like an outdoor music festival kind of vibe. I'm really looking forward to that aspect of it."
Evers performed in Desserts on Broadway his freshman year before the event transitioned to Java and Jams. Now, with more changes to the event because of COVID-19, Evers said he is thankful for the opportunity to continue performing.
"Music is my release in a way," Evers said. "It's a really relaxing, fun way to let go of things for a while. That's what we're trying to provide for our audience. We're trying to help them stop thinking about all the COVID-19 stuff for a while and enjoy themselves a little bit. It's going to be a pretty laid back show overall, but I still think it's going to be really fun."
Leave a Comment
About the Contributors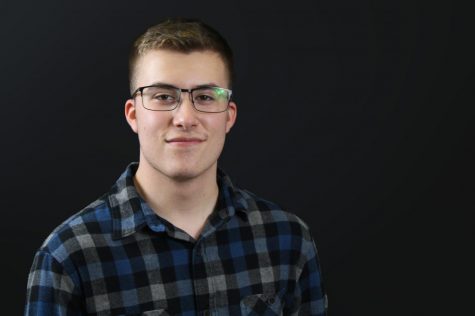 Blake Loria, Editor-in-Chief
Howdy! I'm Blake Loria, and I want to pursue a career in journalism, so I am honored to be serving as editor-in-chief for my third and final year on staff. As a senior, I am quite involved around Canyon High, so when I am not editing or practicing for...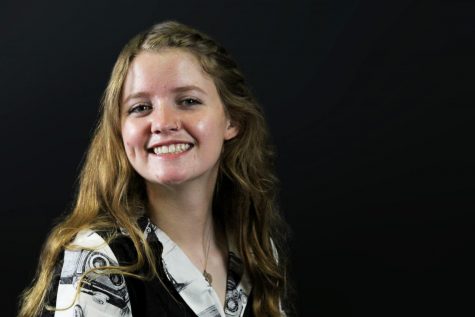 Kodi Hicks, Staff Reporter
Hello, world! My name is Kodi Hicks, and I am co-editor-in-chief of the Soaring Wings Yearbook. Along with running the yearbook, I am the host on our podcast, "Winging It." I have a passion for writing, and I can't wait to get to share my work with the...