Eagle's Tale named 2020 Pacemaker finalist
The National Scholastic Press Association named The Eagle's Tale, Canyon High's online publication, as a Pacemaker finalist for the sixth year in a row in February and recognized the newspaper in an online awards ceremony April 18.
The NSPA is based in Minnesota and recognizes the top publications in yearbook, newspaper, broadcast and online papers nationally each year with the award. Those publications are monitored throughout the year to determine the winners of the Pacemaker award.
"I remember one time being at a convention, I went to a session on the Pacemaker awards," adviser Laura Smith said. "I walked out and thought 'Well, we're never gonna get that,' because it seemed insurmountable. In the beginning, we were never working toward those awards; we were just working toward having a really good product. We wanted to do excellence every day because that's who we were."
"
It's about everyday excellence, and if you do that, everything else falls into place."
— Laura Smith, adviser
In 2015 the publication won a Crown award, the highest recognition given to student print and online newspapers by the Columbia Scholastic Press Association.
"I was in complete shock," Smith said. "Then that was followed by a Pacemaker nomination that spring. Being nominated six years in a row for NSPA's Pacemaker and being finalists made me incredibly proud of the small staff that worked hard to produce the kind of excellence that would get national recognition that many years in a row."
Only four online newspapers from the state of Texas won the 2020 Pacemaker award.
"To be one of the finalists alongside that group was a huge honor," Smith said. "The excellence of the program has really been built by amazing student leaders one after another throughout the years. People don't understand how much great student leaders come into play when you build a program. It's about everyday excellence, and if you do that, everything else falls into place."
Established in 1921, the Pacemaker award slowly eliminates other newspapers until few are left, recognized as the best in the nation.
"It's a very prestigious award," said senior Macy McClish, co-editor-in-chief. "It's not based on one entry; it is an award based on continuous work. Even if you're only selected as finalists, you know that you passed that bar to be deemed a paper or yearbook that continually produces quality stories."
McClish said she believes the staff, although small, works hard to provide quality content.
"
We try to find unique stories, powerful stories, stories that need to be told."
— Macy McClish, co-editor-in-chief
"Our staff is full of strong writers who don't stop until they have the story they want," McClish said. "Creativity is something we endorse a lot, and I like to think it shows. We always try to cover anything and everything, and with a staff of nine, we do considerably well. There's always more we could cover, but we try to find unique stories, powerful stories, stories that need to be told."
McClish said she was proud when she learned the publication was named a finalist for the award.
"When I was a reporter, it was amazing to know the paper my stories were published on received an award," McClish said. "Everyone has written great stories this year, and there's a certain feeling of accomplishment that comes with being a Pacemaker finalist. Everyone who has contributed to our paper should definitely have a little proud moment. It's because of everyone's amazing work we can say we were a Pacemaker finalist."
Leave a Comment
About the Contributor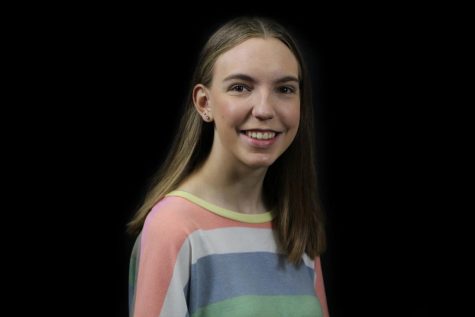 Hannah Backus, Editor-in-Chief
Hello! My name is Hannah Backus, and I am a senior. This will be my third year on The Eagle's Tale staff and second as Editor-in-Chief, and I am so excited to be serving the students of Canyon High once again. Alongside newspaper, I am co-president of...