October blood drive registration opens
Students ages 16 and older may be eligible to donate at the blood drive scheduled for Oct. 23-24. Prospective donors must sign up with Key Club Sponsor Lance Culbert in room 1306 to make an appointment. Registration begins Oct. 9 and continues until the drive begins. Donors receive a t-shirt and a ticket to 6th Street Massacre Haunted House.
Applicants younger than 17 must have a signed parent permission form, and every participant is required to bring a form of identification such as a driver's license or student ID. Key Club sponsored a blood drive in September as well, and despite the short notice for the blood drive, 68 students participated in the event.
"
I just think that there's something at Canyon High that makes our students more willing to donate."
— Lance Culbert, Key Club Adviser
"I was really encouraged by the fact that we had that drive very early in the school year and we had great turn out," Culbert said. "We didn't really have a whole lot of time to advertise it, and people still came out."
As in the previous blood drive, the October drive will include the Double-Red form of donation. Unlike a normal donation, this technique allows the student to donate twice as much blood, making one unit of blood have the credit of two. However, Double-Red donation also takes twice the amount of time to donate.
"I say you do what you're comfortable doing," Culbert said.  "If you feel like you only have time in your schedule to do a regular donation it is not going to go to waste. If you have time and you are just interested in seeing what the double-red process is like, give it a try."         
The blood drive welcomes to students beginning at ages 16 and 17 who weigh a minimum of 125 pounds and those aged 18 who are at least 110 pounds.
"Blood products are only able to be around because people volunteer and do it," Culbert said. "It all comes down to the students. If the students weren't willing to donate we wouldn't have anything from these drives."
"
The people at Coffee Memorial Blood Center are always very complimentary about the staff and especially the students."
— Lance Culbert, Key Club Adviser
Key Club works with the Coffee Memorial Blood Center to offer the event. According to Culbert, the reason for the donations during the blood drive is because of the students' willingness to do so.
"I just think that there's something at Canyon High that makes our students more willing to donate," Culbert said. " They say that the students just have a heart for blood donation and I just think that's very cool to be known for that."
About the Contributor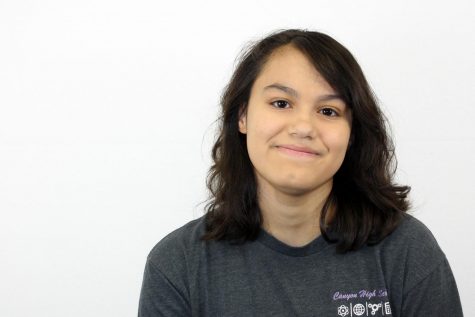 Maryssa Rodriguez, Staff Reporter
Hola! Me llamo Maryssa, and I'm a junior working in my second year as a reporter for The Eagle's Tale. I enjoy drawing, writing and spending time with animals. I'm not only a writer though; in fact, I also like learning new things in subjects such...