iConnect center construction underway
Beginning next year, students will receive Chromebooks after paying a user fee of $40 through the iConnect support center, which is under construction in the library. Students will be allowed to take these Chromebooks off campus and use them for their own purposes. Construction began in the library in early April.
"We had enough that we didn't even have to buy any," director of iConnect Jessica Ray said. "It's silly for them to be locked up in a cabinet all night whenever they could be used more effectively. I think it was a smart idea to go ahead and do this. There are several areas in the district that have gone this way, and they've had success." 
"
It's silly for them to be locked up in a cabinet all night whenever they could be used more effectively."
— Jessica Ray, iConnect director
Chosen students will assist in the iConnect center throughout the school day. These students will be trained to answer questions about the Chromebooks and help other students with them. The 24 chosen students will come from a pool of 100 nominees.
"We allowed teachers to nominate kids who have good character, integrity and are respected by others," Ray said. "They're going to be trained, so they don't have to be super great at them now, but they should be by next year."
Though parts of the library must be re-positioned due to construction, librarian Ceneé Precure said she is excited about the change because the library is trying to transition into a hub for student learning.
"With each new addition these construction projects bring, the comment usually is 'well, you're losing a little more library.'" Precure said. "I don't look at it that way. We're gaining more, even though it's not in print books."
Construction and re-positioning should be finished during the summer, and the final product will be available to the student body at the beginning of this fall.
"I hope it adds to the whole feel of the library," Precure said. "They wanted to look very tech-y with an Apple-ish look, yet integrate some of the traditional wood grains into the look."
To accommodate for the loss of space, the library staff will relocate books and the circulation desk and remove some computers. All movement is currently tentative.
"
We're gaining more, even though it's not in print books."
— Ceneé Precure, librarian
"We're going to have to transition, but we're not going to transition until we know the extent of how much this is going to infiltrate our area," Precure said. "We don't want to shift and re-shift back."
There will be several procedures in place to help economically disadvantaged families, Ray said.  Families will have a payment plan option to pay the user fee throughout the year, and there will also be a scholarship program.
"It's going to be great for kids to have technology at their fingertips, when maybe their parents can't afford to buy their kids a Chromebook," Ray said. "They can have something at home. It's a great use of our resources. We already have them at school. Why not have them at home?"
Leave a Comment
About the Contributor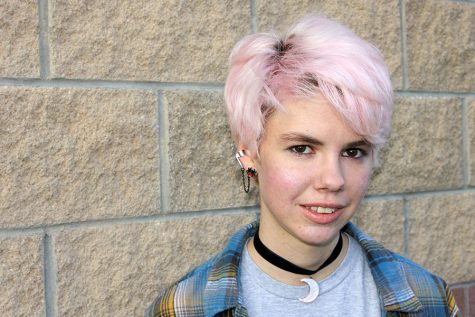 Jamie Abbott, Staff Reporter
Heyo! I am Jamie and this is my first year on staff. I am a junior, and I am very excited for this year. I enjoy reading, creative writing, watching Sailor Moon and listening to K-pop. I invest most of my time in cheesy science-fiction, which includes...