LEAD Council selects students, staff member of month
The LEAD Council has honored four students and one staff member as students and staff member of the month, beginning a new program to recognize the good deeds of their peers and the staff on a monthly basis.
The LEAD Council started in 2015 as a group of students sponsored by CareNet. Teachers and administration selected students who demonstrated leadership, consistent good character and active involvement in school activities to participate. Although the LEAD Council is a relatively new organization, senior LEAD Council officer Callie Boren said their goals are necessary to the well-being of Canyon High's morale.
"As the council has grown, we have decided to implement new programs and opportunities to make our school a better place," Boren said. "One of the ways we decided to do that is by selecting a staff member and student from each class every month to recognize as the student or staff member of the month."
Boren said the process of selecting the student and staff member of the month was both simple and effective.
"
Other students can be encouraged to be like the student of the month or to be more involved.
— Chloe Kemp, 11
"We went about selecting the students and staff member of the month by sending an email to the teachers asking them to nominate students from each grade who demonstrate leadership, respect, kindness and everything else the council is about," Boren said. "The teachers responded with the names of students who demonstrate those qualities, and from there we took those names and narrowed it down to a list of students. At this point the members of the council voted for one student from each class and that is how we made our final decision."
The LEAD Council started a Twitter account, @CanyonLead to communicate with other students.
"On our Twitter account we are going to continue to recognize students and staff members of the month, but we will also be looking for other ways to encourage our fellow students to do good," Boren said. "We will be posting inspiring ideas, encouraging quotes and acknowledging  people when they do a good thing, so you may not be the student of the month, but if you are doing good in the school or community, we will recognize you."
Junior LEAD Council officer Chloe Kemp said she is proud of the students and staff member of the month and is looking forward to the effect the council's work will have on her peers.
"The Council really encourages our school to be better," Kemp said. "It encourages students to do good, and then other students see their peers improving their community and school, so a lot of them follow their lead. Other students can be encouraged to be like the student of the month or to be more involved."
Sophomore LEAD Council officer Madison Jones said being in LEAD Council is a huge honor, and a great opportunity to serve the school.
"Being an officer on top of that is a bigger platform to promote positivity," Jones said. "We have the opportunity to voice the concerns of the students around us and set an example for our peers to not be afraid to be different, strive to be above the status quo and be a leader."
Boren said she wants the students of the month and all students who are seeking to improve their school and community to know they have the full support of the LEAD Council.
"We know the people who care do not have to put forth the effort they do, and they do not have to care about the legacy they leave," Boren said. "However, we as a school want to leave behind a legacy of greatness. We want the students who are acting to build the legacy to know what they are doing is important, and we support them in that."
Leave a Comment
About the Contributor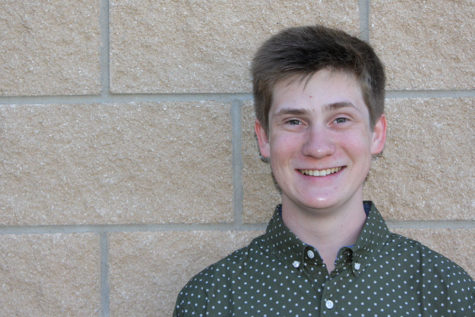 Braden Lefevre, Associate Editor
Hey there! I'm Braden Lefevre, and I am a senior at Canyon High. This is my third and final year to serve as a member of The Eagle's Tale Staff, and I am elated and honored to serve as an associate editor of this stellar publication. I am also the...