Feast for a queen
'Dinner for Daisha' set for Oct. 7
Students, staff and residents of the city of Canyon are encouraged to attend the "Dinner for Daisha" on Friday, Oct. 7 from 5:30 p.m. to 6:45 p.m. inside the southwest corner gate of Kimbrough Memorial Stadium. The tailgate cookout will consist of  hamburgers, chips, cookies and drinks for $10. All proceeds will go to the Daisha Ferrell Medical Fund. In addition, donations can be made to Ferrell's medical fund at any First United Bank location.
Varsity cheerleader and current homecoming queen, Daisha Ferrell was severely injured Sept. 4 in a serious automobile crash that left her with a broken back. Following this event, Ferrell underwent a major surgery in which eight screws and two rods were inserted into her back. To assist Ferrel, American Sign Language teacher Chelsea Phemister and math teacher Jessica Ray have taken charge of organizing and advertising the "Dinner for Daisha."
"
Daisha has a long road ahead of her, and we owe this to her.
— Chelsea Phemister
"Being in Canyon is awesome because our community always rallies around each other," Phemister said. "I have lived here for 30 years, and I don't have any plans to move because of that reason. Daisha has given so much of herself to Canyon, so it would be a true shame if the student body and community didn't step up and help her now. Daisha has a long road ahead of her, and we owe this to her."
Phemister said that Ferrell has cultivated a personal connection with both the teachers and students of Canyon High, which makes her a well known and beloved young woman by both her peers and her community.
"I've watched a confidence bloom in Daisha from the first moment I met her," Phemister said. "Any time she enters a room she lights it up, and if you watch her in the Pep rallies or games, you can see that she lights up the students in the same way. She's a unique and real person, and that is what makes her a true leader. She is not afraid to stand up for what is right and stand alone."
Ray said she gained a strong sense of admiration towards Ferrell after working with her. 
"I was Daisha's cheerleading coach during her freshman year," Ray said. "During that time I came to know her well, and she's now one of my favorite people. She always brightens my day whenever she is around."
Ray said that Ferrell is unique in that she is a a constant positive force, even when she is surrounded by an overwhelmingly negative situation.
"I know that if the tables were turned and a different student of Canyon High was in Daisha's situation, Daisha would do everything she possibly could to help that someone in need," Ray said. "She has always been that kind of person who isn't afraid to step in and lift someone up. Now it's the community's responsibility to lift her up."
View Comments(1)
About the Contributor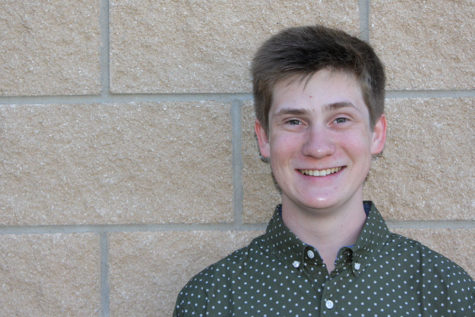 Braden Lefevre, Associate Editor
Hey there! I'm Braden Lefevre, and I am a senior at Canyon High. This is my third and final year to serve as a member of The Eagle's Tale Staff, and I am elated and honored to serve as an associate editor of this stellar publication. I am also the...