University polyamory
Senior explores college options
If choosing a college is like choosing a lover, I am the queen of polyamory.
I am the player of the collegiate society. I date around and know my options before I commit. I never date just one school at a time. I am the heartbreaker of Harvard and Yale.
Well, that may be pushing it. I doubt any admissions officers cried after discovering I was not committing to their schools. And I also doubt any admissions officers were particularly heartbroken to not have to read my application.
But from my Cappex explorations as a freshmen to my Raise.me escapades as a sophomore to my initial campus tours as a junior to my nine applications as a senior, I daresay not a moment of my high school career was spent without a college as my boyfriend and a couple more as my side action.
My journey started with Arizona State. I discovered him late into my freshman year with a little online research, and he just seemed perfect for a prospective journalism major like myself. He was an innovative school overflowing with internship opportunities, incredible professors and unique programs. Journalism majors can study for their bachelor's and master's simultaneously. Students host the Arizona PBS station. To top it all off, the school was centered in the bustle of downtown Phoenix.
I'll admit, even as a polyamorous college lover, Arizona was the closest I got to commitment. I showered him with love at college fairs, and he gifted me posters and pens. I visited him my junior year and fawned over his beauty. Though my parents warned he would expect more than I could give if I attended, I tried not to think too hard about it. Hopefully he would gift me some money, I reasoned. Hopefully he would understand our love's value and make it work.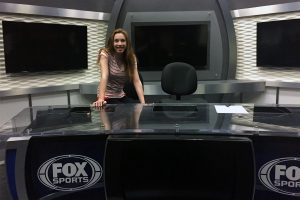 But much like a high school boyfriend, Arizona's attention and gifts faltered. And when Cornell began hitting me up, my faith wavered.
It started after I took my PSAT. I skipped the test sophomore year, but I attempted it junior year. I didn't expect much out of it, honestly. I already planned to take my ACT and SAT at least once, probably repeatedly. The PSAT was just a practice. I checked the box to send scores to interested schools, but I didn't think much of it.
And so the mail onslaught began.
My scores were higher than I anticipated–not perfect by any means, but high. I hadn't expected it. Though my GPA placed me in the top 10, I never came close to valedictorian. I generally test well, but my prior practice ACTs typically returned with wretched results. Nevertheless, my unusually high PSAT scores existed, and my unusually high scores yielded mail.
Lots from a small liberal arts school in New Hampshire called Colby-Sawyer College. Healthy helpings from Northwestern University and Rochester Institute of Technology. And a sprinkling of flyers from the Ivies.
So I regrouped. I restarted my blind dates and internet stalkery. What were the best journalism schools? Who had the best newspaper? Who could give the best financial aid? Who offered the best internship opportunities?
I established a new list of schools to which I should apply. They were carefully selected based on prestige, academic quality, extracurricular opportunities, social dynamic and proximity to cities. Of all the Ivies, Cornell and UPenn survived the cutting and made my list.
I applied to both of them. And I reasoned that they were exactly what I wanted. Cornell was one of the best communications schools in the country, a massive campus rich with history, the brainchild of a man who was dedicated to education for all from the beginning. UPenn was in Philadelphia, gushing with internship opportunities, a perfect juxtaposition of history with innovation. They were freaking Cornell and UPenn.
But Syracuse was also competing for my eyes. Though each journalism school ranking list varies widely in its featured schools, Syracuse appeared more and more with each site I visited. College Factual ranked Syracuse the 11th best journalism school nationwide. College Choice ranked The Daily Orange, Syracuse's main newspaper, as second best in the country, sandwiched between Yale and Cornell. The school varies in ranking from site to site, rising as high as first best for communications on some. The city itself is within driving distance of Montréal, Philadelphia, New York City and Washington D.C., perfect for a city-lover and internship-seeker like myself. It met all my internal requirements just as the Ivies did. 

I applied to nine schools in total. And I did all that work and poured myself into each essay because I felt each school was right. They were handpicked from pages and pages of nationally acclaimed schools after four years of dating around. They were all right for me. It was just a matter of who accepted me and who offered money.
The problem was my schools were spread quite a distance from each other. When it came time to tour schools, I could only select three. So I chose the ones I felt most passionate about and which were closest to each other: UPenn, Cornell and Syracuse.
A plane whisked my father and me off to upstate New York during spring break, and the adventure began.
Cornell's tour was unofficial. Because of spring break, they were only hosting one tour that week, and to fly in a day early to catch that tour would have added an extra $400 in flight costs, so instead, we wandered. Each time we actually walked up to someone and started a conversation, they were shockingly friendly. One student let us into the communications department with his student ID without us asking and nearly introduced us to the dean of the department. Another offered a map of the campus and showed us the best sights of the university (which is 745 acres big, by the way–a little under double the size of UT Austin and about five and a half times the size of WTAMU). And we explored it ourselves.
And it was incredible, don't get me wrong. The libraries were breathtaking. The architecture was mind-blowing. The people were unbelievably welcoming.
But it was weirdly stale.
And UPenn was incredible. The introductory information session alone was intellectual. The dorms were like mansions. Each tree and brick and sidewalk seemed perfectly placed.
But we just had no rapport.
They were incredible. But I felt nothing. I probably could have survived at either school and made it work, but they just seemed to exist.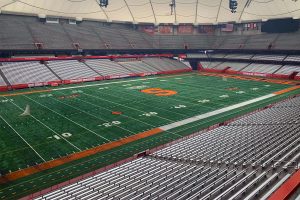 Syracuse, though.
Syracuse was a boyfriend with all the good looks and history of Arizona State and none of the faults. Only seven prospective students toured in my group, and yet I can still remember each of their faces and personalities. I made friends at the university before even starting the full tour. The history of Cornell and UPenn was perfectly blended with the innovation and modernity of Arizona. The journalism building legitimately made me lose my breath.
Every single thing I wanted out of my next four years, even things I had not actively sought, were there at Syracuse. A constantly-updating safety system. A brand new health complex right next door from the journalism building. Countless student organizations. Amazing arts and political science programs. The best financial aid offering of all the schools I dated.
But most importantly, my heart leaps into my throat every time I think of returning to his arms.
Syracuse could have smelled like a locker room and looked like Shrek, but it wouldn't have mattered. Because of every acceptance letter I received, only opening Syracuse's truly made me smile.
We waited a few weeks to hear from the Ivies since they were projected to give more financial aid. I hoped they would not accept me. They did not accept me. And my days of dating polyamory ended when I paid my enrollment deposit, finally marrying the college of my dreams.
And now I count the days to see my love again.
Leave a Comment
About the Contributor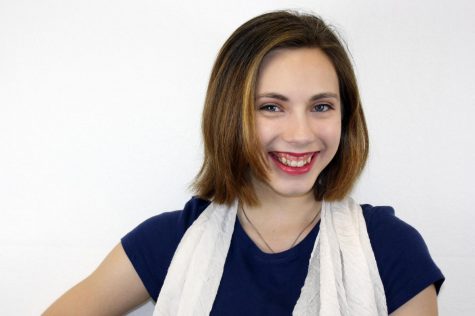 Erin Sheffield, Editor-in-Chief
Hullo! I'm a senior in my third year on staff and my second year as an editor-in-chief. You can catch most of my work in the news and blogs sections. When I'm not around the school with a camera and a press pass, I spend my time in choir, musical, various...