Whatanimpact
Security guards, road trips, movie theaters, jalapeno ranch, midnight stops and countless memories. Let me explain how each of these are related and why so much sentimental value is attached to this seemingly random thread of words.
My first truly memorable experience took place in San Antonio two summers ago when I was 15 years old. With my mom by my side, I had just finished one of the greatest experiences of my life. I indulged my inner nerd by watching 24 drum corps compete for nearly 10 hours. I managed to successfully rid myself of all my money, in exchange for eight t-shirts and various other band-nerd-related items.
After this exhausting experience, my mom and I were starving and decided to go find food around 1 a.m. We pulled up to my favorite fast food restaurant and were shocked to find security guards pacing back and forth in front of the barred windows. However, this incredibly sketchy appearance did not stop us from going through the drive-thru, bringing the food back to our bed and breakfast, and eventually ruining the pretty white sheets with french fry grease. It was fantastic.
"
Each time my family hit the road, this beloved fast food restaurant was a mandatory stop."
— Aryauna Thompson
This adventure soon became a tradition, as each time my family hit the road this beloved fast-food restaurant was a mandatory stop. Yet these stops were not limited to road trips, as my beautiful restaurant had several convenient locations around the lovely city of Amarillo, Texas. Before we knew it, my family and I were making late-night runs after each movie we attended. These soon expanded from the realm of frequently into regularly. I even knew some of the late-night-shifters by name. (One guy even made fun of me every time I ordered a chocolate milkshake.)
However, until a few months ago, I only thought I liked my memory-filled go-to. That was when I was introduced to the jalapeno ranch. I instantly fell in love, and I suddenly realized just how much I had been missing out on before my mom and I stumbled upon this masterpiece in a plastic packet. It was a dream come true. Finally I discovered the perfect combination of the best dressing with my love of spicy flavors. My life had been changed permanently, for the better.
Hidden behind the walls of this beautiful, triangular, orange and white striped building, are countless memories, experiences and people I could never forget. Whataburger, I thank you for the times we've shared, and I can't wait to continue taking on the world with you and your countless, precious memories by my side. What a burger. What an impact.
About the Writer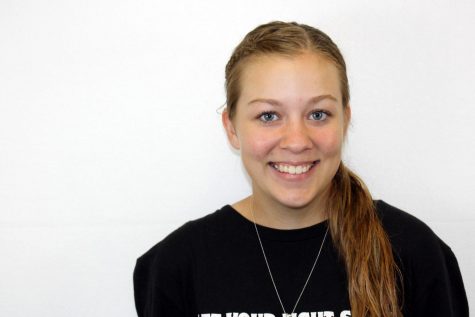 Aryauna Thompson, Staff Reporter
Hello! This is my third year as a staff reporter on The Eagle's Tale staff. I am incredibly excited to yet again work with such an incredible team of journalists. Outside of The Eagle's Tale, I am very active in the Soaring Pride Band, UIL Academics,...