Take a break from school, not COVID-19 precautions
Guidelines for staying safe during Thanksgiving
Over seven months ago, many Americans celebrated Easter, the first major holiday during the American COVID-19 pandemic. While individuals were likely more conscientious of the coronavirus at the time, the status of case numbers in the Potter-Randall area is currently at Level Red, with hospitalization rates at 35.88%. With Thanksgiving break beginning Monday, Nov. 23 and lasting through Friday, Nov. 27, it is important to take precautions. There are a variety of alternative ways to celebrate the holiday which allow participants to stay safe. Remember, Thanksgiving is a time to give thanks, not disease.
The CDC provided information on ways to conduct Thanksgiving gatherings this year. The safest method to participate in the holiday this year is by not hosting in-person gatherings with friends and family who are not members of the household unit. The CDC defines the household as "anyone who currently lives and shares common spaces in your housing unit." To still be able to celebrate with family members who live outside of town, consider using Google Meets, Zoom or Skype to video chat during the meal.
The CDC also suggests participating in activities around the house. Rather than attend a Thanksgiving Parade or event or go shopping, join in the festivities by watching the Thanksgiving celebrates on the TV from the comfort of home. Alternatively, get some early Christmas shopping done by browsing online. This will also ensure the packages get delivered before Dec. 24, even in the midst of a pandemic.
If hosting a Thanksgiving meal, the CDC suggests sitting outside. Hosts could set up a picnic table, and the extra space would allow for six feet of space between attendees. To create an elegant setting, consider placing a neutral tablecloth down with candles and silverware. For more of a "Charlie Brown Thanksgiving" setting, set out chairs from around the house and enjoy unconventional foods, such as popcorn and ice cream.
If eating outside is not a viable option, hosts are encouraged to open doors and windows to circulate air throughout the meal. By increasing ventilation in the home, coronavirus particles are less likely to spread to other guests.
To prevent food-borne coronavirus spread, the CDC suggests guests bring their own food to gatherings. Do not share the dishes with other household units. Additionally, limit the number of people going to and from the areas where food is being handled. If serving food in the traditional buffet-style, have one person serve the food to everyone. This way, only one person handles the serving utensils.
As always, it is recommended to wear masks at all times when not actively eating or drinking. Individuals should allow for six feet between them and other households at all times. When traveling via airlines or public transportation, have each household member tested for COVID-19 prior to departure. If a household member is exhibiting symptoms, other members of said household should refrain from attending any gathering. Stay safe and enjoy the holidays.
Leave a Comment
About the Contributor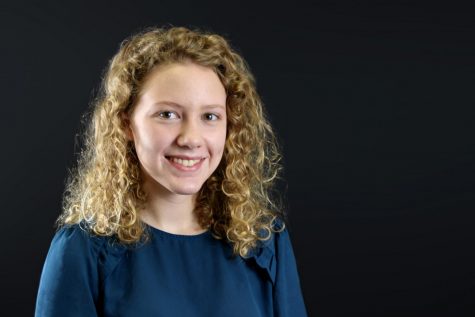 Abigail Bell, Managing Editor
Hi! My name is Abby (with a "y"), and I am elated to be managing editor this upcoming year. This will be my second year on staff, and I consider myself extremely lucky to be a member of this awesome team. I am a junior this year and am one of three drum...