5 things to do during fall break
Fall break begins Friday, Oct. 9 and lasts through Columbus Day, Monday, Oct. 12, for students.
Canyon High faculty will participate in a professional development day Friday, while Monday is a holiday for both students and staff. School will resume Tuesday, Oct. 13 on collaboration bell schedule. For ideas of things to do over the break, The Eagle's Tale offers five activities for students and staff:
1. Support Canyon High Sports
The varsity football team plays against the Andrews Mustangs Friday, Oct. 9 at 7 p.m. in Andrews. The team currently has a 5–0 overall season record. Boys and girls cross country will run in their Lubbock Invitational, Saturday, Oct. 10, and volleyball will play against Hereford at noon the same day at home. Tickets are available at ticketspicket.com.
2. Visit Maxwell's Pumpkin Farm
Tuesday, Sept. 22 marked the first day of fall, and with 23 days until Halloween, Maxwell's Pumpkin Farm is open from 10 a.m.-9 p.m. on Saturdays and 1 p.m.-9 p.m. on Sundays. The farm is located at 12908 S. Bell St. in Amarillo and offers over 30 fall activities, including a giant maze, hayrides and more listed on their website. The farm will hold a "fall night" Saturday, Oct. 10, wherein fireworks will be lit. For those interested, ticket information is available here.
3. Hike in the Palo Duro Canyon State Park
There are 30 miles of trails for visitors to hike, bike and explore their way. The canyon is the second largest in the U.S. and is open from 7 a.m.-7 p.m., with restrictions because of COVID-19. All guests must purchase a day or overnight pass in advance on texasstateparks.org. A ticket for those over the age of 13 is $8, while those aged 12 and under get in free. The park's entrance is located at 11450 State Hwy Park Road 5, Canyon.
4. Watch a Movie at the Tascosa Drive-In Theater
The Tascosa Drive-In Theater calls itself the "Home of the Double Features," with tickets priced at $8 for adults and $5 for children under 10 years old. The movies "Hocus Pocus" and "Corpse Bride"—both rated PG—are currently being shown. On Sundays the theater has $10 carloads, and all tickets are $5 on Tuesdays. Located at 1999 Dumas Drive in Amarillo, the theater gates open at 7 p.m., and the movie starts when the sky gets dark. Those interested can also view the concession stand menu and view their safety rules.
5. Spend the Weekend Relaxing
Finally, take the weekend to unwind and rest. Students can binge shows and movies on Netflix, Disney+ and other streaming services, spend time with friends and family and even read content from The Eagle's Tale. Readers can find out club information here, read about recent events in our news section, look at scores in our Sports Center, or read through our catalog of Arts & Entertainment and Blogs sections. Episode 14 of Winging It, the first with our new host, Kodi Hicks, is now available for students to enjoy.
Leave a Comment
About the Contributor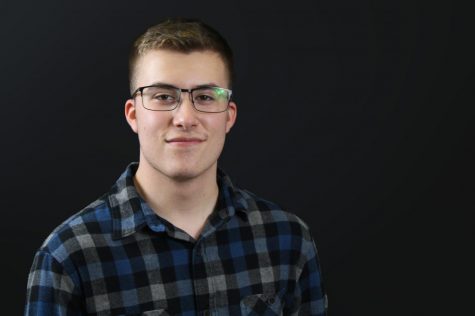 Blake Loria, Editor-in-Chief
Howdy! I'm Blake Loria, and I want to pursue a career in journalism, so I am honored to be serving as editor-in-chief for my third and final year on staff. As a senior, I am quite involved around Canyon High, so when I am not editing or practicing for...