Cross country begins season with 6 Mile Relays
The Lady Eagle cross country team will compete in the annual 6 Mile Relay at Canyon High Saturday, Aug. 25 at 9:30 a.m. against more than 30 teams from across the Panhandle. 
Varsity girls will compete at 10:30 a.m., junior varsity at 9:30 a.m. and junior high at 11:30 a.m. Led by Coach Ray Baca, the team won Mansfield Timberview's 6 Mile Relay last weekend. For the upcoming meet, not only will they compete in the large school division but will also pass off a rubber chicken in place of a baton.
"Since it is a relay, we each have a part in it," senior Kelsee Dudley said. "Baca splits up the teams. It depends on who our competition is and who he wants us to be competing with during the race."
"
We talk about being a good teammate, being a good leader and age doesn't matter.
— Sydney Elliot, 12
Dudley said their team Bible verse, 1 John 4:4, is easy to relate to as a runner.
"The Lord is greater than the giants you face," Dudley said. "It's especially a big deal, because runners have a lot of stuff they have to face, like injury, exhaustion and time management."
Senior Sydney Elliot said the team often discusses how to improve as a unit.
"We've had team meetings on how we need to act in the team," Elliot said. "We talk about being a good teammate, being a good leader and that age doesn't matter."
Dudley said the nine freshman who joined the program have been a valuable addition to the team.
"We have a really hardworking and talented-looking team," Dudley said. "We have a talented group of nine freshman that just came in, and they are really pushing our upperclassmen to work harder, too."
According to CCCAT rankings, the team is ranked number one in the Texas 4A girls classification.
"Our team has a chance to do something amazing," senior Brylee Winfrey said. "We are very talented and well rounded. With us moving down to 4A, we will be a team to watch out for."
"
Our team has a chance to do something amazing.
— Brylee Winfrey, 12
Dudley has recovered from multiple injuries and said she is hoping to give her all for herself and the team.
"My goals for the season are to stay healthy, get faster and hopefully at the end of the season, go to state as a team," Dudley said. "For this meet, I want to be able to compete and push myself to what I can do and what I'm capable of."
Dudley said Baca prepared the team mentally and physically throughout the summer.
"Baca helped me learn to trust myself and believe in myself as an athlete and as a person," Dudley said. "I know how to take a risk and be okay with it instead of saying, 'Oh I'm not gonna do this because I'm scared.' I'd rather take the chance of failing to see if I succeed."
After an injury last season, junior Kameron Diaz said she is excited to do what she loves again with her team.
"My teammates hype me up and make me feel happy to be in the position I'm in," Diaz said. "They're one of the reasons I love running, along with the competition it brings."
A veteran with the cross country and track program, Elliott said she realizes she wants to remain positive throughout her last season.
"Since I've run these past four years, and this is my last year, I don't want to waste it on negativity," Elliot said. "I can't get this time back because it's the last time for everything this year. I don't want to waste it."
Leave a Comment
About the Contributor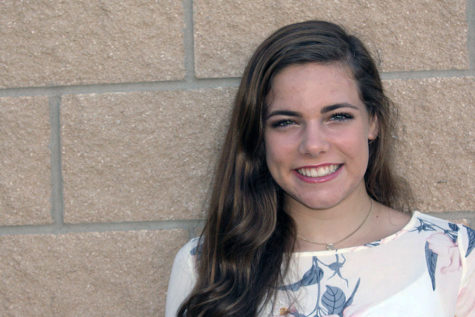 Mackenzie Grimes, Staff Reporter
Hey y'all!  I'm Mackenzie Grimes, and I'm a junior on the newspaper staff.  I'm involved in other activities such as cross country, track, Fellowship of Christian Athletes and my church youth group. Although those are just a few activities, I also...