Two advance to state academic meet
Junior Erin Sheffield and sophomore Macy McClish will advance to the state UIL meet for placing in the top three in their events at the regional meet.
After placing at district, 17 students competed at the region 1 UIL academic meet April 13-14 at Texas Tech University. Senior Braden Lefevre placed sixth in ready writing, senior Sara Ledesman placed fifth in prose interpretation, freshman Ryan Cox placed sixth in poetry interpretation and sophomore Claire Meyer placed fifth in feature writing. The University of Texas at Austin will host the State UIL Academic Meet May 4-5.
"I was laid back while writing and thought, 'what happens, happens,' and I wouldn't be upset if I didn't make it," McClish said. "I've made it this far and that was enough for me. I've already done the best I can, so I feel I'd just be happy with whatever happens at state."
Journalism adviser Laura Smith coached McClish as she practiced her writing skills in the weeks leading up to competition.
"I wrote a couple of practice feature prompts from previous region and state meets," McClish said. "I would type it out and do my thing. I would give it to Mrs. Smith for editing, so she would catch my mistakes and remind me of what to keep in mind."
Unlike McClish, a first-year state qualifier, Sheffield will attend the state journalism meet for the third year in a row. Sheffield said the mood of the competition room is set by the adult working the event.
"
It doesn't matter if you got first place or last place, the competition is the experience."
— Erin Sheffield, 11
"Some of the people at the district and region meets can cause you to get more nervous, but at the state meet, the head of UIL journalism, Jeanne Acton, has this optimistic, bubbly energy that makes you calm down," Sheffield said. "She dances around and makes a big game of it, so you can just celebrate you are at state."
Sheffield said students from all six UIL classifications will write at the same time. Contestants only compete within the 12 students from their own classification.
"At each event you see 72 people in the room," Sheffield said. "All of those people have experienced what you have to get there. It doesn't matter if you got first place or last place, the competition is the experience."
Sheffield said although competing in UIL Journalism helps advance skills, it is not what will be important in the long run.
"UIL is not the point of this; journalism is the point," Sheffield said. "I'm not in this class to compete in UIL. I'm not in here to get hardware. I'm not here to be a UIL champion. I am in this class because it makes me a better writer and prepares me for the future."
First-year speech competitor senior Sara Ledesma performed two pieces for prose. Ledesma placed fifth at regionals.
"Being my first year, regionals was unknown to me," Ledesma said. "I was really excited to be there. You don't realize how much these kids put into UIL academics–they give it their all. Regionals was a very different, intense atmosphere to compete in."
"
Regionals was a very different, intense atmosphere to compete in."
— Sara Ledesma, 12
In prose, competitors create two presentations adhering to specific topics: "examining the changing world" and "taking a stand." Ledesma performed her pieces over Kathryn Graham's coverage over the Watergate Scandal and Malala Yousafzai, a young woman shot by the Taliban.
"My Malala piece has created a connection within me," Ledesma said. "I was able to get through regional finals with that piece. However, it was only one round of prelims and two rounds of finals."
Ledesma said she rehearsed the pieces with the help of the speech and debate coach Stefanie Rodarte-Suto.
"I dedicated six hours a day to working on my pieces, getting them fixed and making sure they were clean and cut concisely," Ledesma said. "This translates to everyday life. Being able to make your passion known and develop that hard work and little aspects of yourself into something bigger has been extraordinary."
About the Contributor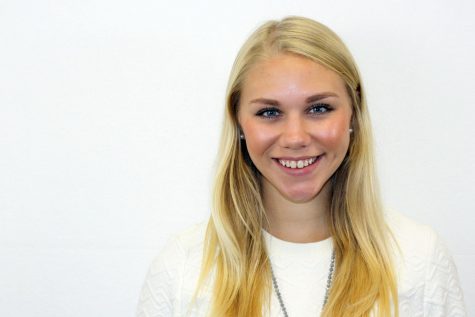 Faith Douglass, Sports Editor
Hey, I'm Faith Douglass! I am a senior this year, and this is my second year in newspaper. I play basketball and run cross country and track. I am in Student Council, Decide to Defy, Fellowship of Christian Athletes, LEAD, National Honor Society and...