Band continues competition season
Energy buzzes through the clusters of black and purple uniforms huddled against the fence, waiting impatiently for the winners' names to be called.
"And in class 5A, Canyon High School."
A roar of laughter and high fives erupts across the band. Their first contest was a success, and now, they strive to continue the trend throughout the rest of their competitive season.
The band competed in Lubbock's Westerner Marching Festival last weekend, placing third overall and receiving Best in Class 5A, as well as winning caption awards for percussion and colorguard. They will go on to compete in the High Plains Marching Festival Saturday, Oct. 14, in Dick Bivins Stadium.
"I'm kind of nervous about performing Saturday, but I'm also very excited," freshman Caroline Ragland said. "It may just be the freshman in me, but I have to remind myself the bands we are going up against are just like us. Remembering that makes contest less intimidating. We've been working hard, and I think we'll keep doing well."
"
We don't perform to get a one at contest, we perform to excite people. "
— Valorie Cuellar, 12
While it may be difficult for band members to see past judges' scores and rankings, senior Valorie Cuellar said the band maintains a mindset of wanting to constantly improve and excite the audience.
"My goal for this year and our upcoming contests is to have fun and perform the best show we can," Cuellar said. "I personally don't care how we place in competitions as long as we do our best. I just want to see the band succeed in its own way, and I think we are going to continue to do that."
The band's show, "Uprising," is presented before each contest as "a journey from restriction and oppression to freedom and individuality."
"When people see our show for the first time, we want them to get excited," Cuellar said. "We don't perform to win a contest; we perform to excite people. I think we'll do really well, and I want people to know not to underestimate us."
Junior drum major Meghan Brooks said the success of the band has been a direct result of the work ethic and attitude shown among its members.
"The attitude of the band this year has been amazing," Brooks said. "We are always striving to do our best. This year, we have the opportunity to go to state again, which is a huge goal for us, but more importantly, we want to perform to the best of our ability. With the freshman class we have this year, I have no doubt we have and will continue to do that. No one has let us down."
The band will perform at 4:40 p.m. Saturday afternoon in the preliminary rounds. Finals for the High Plains Marching Festival will begin at 7 p.m.
"If everyone does their job, the band will do very well this weekend," band director Luis Hernandez said. "If we play with half the energy we played with last weekend, I have no doubt we will succeed Saturday and long after that. We have a very exciting show and a great band."
About the Contributor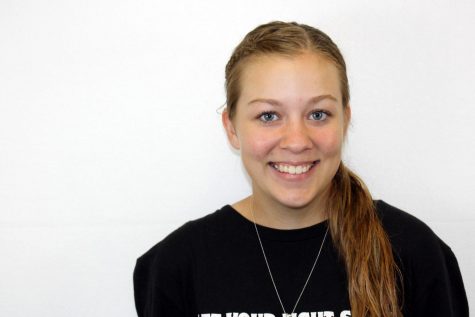 Aryauna Thompson, Staff Reporter
Hello! This is my third year as a staff reporter on The Eagle's Tale staff. I am incredibly excited to yet again work with such an incredible team of journalists. Outside of The Eagle's Tale, I am very active in the Soaring Pride Band, UIL Academics,...