Directors expect band to rise to challenge of 'Uprising'
Oppression. Fear. Restraint. Brutality.  
Conformity. Spark. Courage.
Change. Liberation.
Uprising.
The Soaring Pride Band will present the first performance of their 2017 program, "Uprising," Friday, Sept. 1, during halftime of the football game against Brownwood.
"I would strongly suggest to come and watch our show," senior drum major Braden Lefevre said. "I think people will really appreciate what they see. There are several different ways to interpret our show, but it is bound to touch people in some way. That is really the mark of a good story, song or in this case, marching show."
Lefevre said "Uprising" is not only a very emotional show, but also the most difficult show the band has performed.
"
This year is a continuation of that more complex show we're trying to perform."
— Braden Lefevre, senior drum major
"I think this show is by far the most complex task we've ever taken on," Lefevre said. "The first 11 sets are very difficult to execute, but they are beautiful to look at. We have had to keep stepping up with our shows, and last year, we definitely did that. This year is a continuation of that more complex show we're trying to perform."
With arrangements by junior high band director Eric Rath, the band's musical selections include "The Canyon" by Philip Glass, "Mad World" as performed by Seal, and "Pines of the Appian Way" by Ottorino Respighi.
"For me, the piece that really drove the genesis of the show was 'Mad World,'" Rath said. "The arrangement by Seal is from Passion Play New Orleans, which chronicles the last 48 hours of Christ's life. The way the music was arranged, and the way that it moved up through keys, and the way that it ended so triumphantly made me think that it would transfer really well to marching band."
Rath said "Mad World" was set in place since December 2015, before last year's show, "Trif3cta," was even announced to the band.
"That piece was why our show for a long time was called 'Mad World,' before 'Uprising' better fit what we were trying to convey to the audience," Rath said. "From there, I was just listening to things I thought would fit and pair nicely, because at that point our show didn't really have a theme. For some reason, I started listening to the Santa Clara Vanguard's 1999 show, where the opener is 'The Canyon.' I thought it would merge into 'Mad World' really well."
"
This year we have the right students, the right time, the right opportunities, and the right show."
— Eric Rath, arranger and junior high band director
"The Canyon" and "Mad World" were set long before the band's last piece was added. Their closer, "Pines of the Appian Way," is intended to be the turning point of the show.
"The slow crescendo, the big resolution at the end, the very clear movement from the dystopian, very regimented feel breaks apart in that piece of music," Rath said. "So as soon as I heard those pieces together, I knew they were enough. As an arranger, it's really hard to let things develop under a time crunch, but with this show I felt I had all the time in the world. I felt I could really breathe with this show, and I wasn't under a lot of restraints."
Rath said while there is an apparent theme, "Uprising" references no specific event or group of people. While he wants the audience to understand the general idea, there is no right or wrong answer as to what the show is about.
"I kind of don't want the audience to know anything going into the show," Rath said. "The reason I say that is if we do our jobs right in the design and execution of the show, you don't need to know anything. It should be clear after seeing the show once exactly what the show is about. If there is any doubt about that, then the design is off. I don't want people to know anything. I want them to go in and just completely understand."
Rath said he was excited because what this group of students is being asked to do is a challenge, but an attainable one.
"These things don't happen by accident," Rath said. "No good band ever happens by accident. It's really easy to dwell on the design or concept of the show, but we've all seen shows with great designs where the students don't buy in, or the execution is not possible."
Rath said "Uprising" will push the band to new limits and and open new doors.
"I'm really excited that this year we have the right students, the right time, the right opportunities and the right show," Rath said. "This year, it seems like we have an extra level of juniors and seniors who have stepped up and taken leadership upon themselves. As a band director, I've been able to just walk in and enjoy the process. It's a good day to be an Eagle, I guess. With these students, the sky's the limit, and it feels like anything is possible."
About the Contributor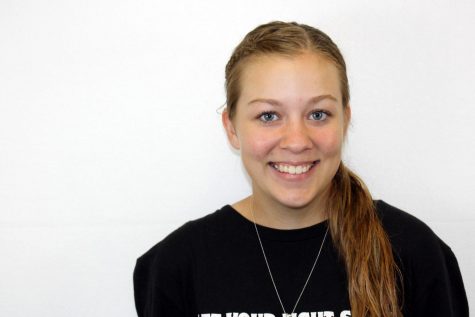 Aryauna Thompson, Staff Reporter
Hello! This is my third year as a staff reporter on The Eagle's Tale staff. I am incredibly excited to yet again work with such an incredible team of journalists. Outside of The Eagle's Tale, I am very active in the Soaring Pride Band, UIL Academics,...