Restaurant 'Stix' with great taste
Eatery offers high-quality food in mediocre environment
Sticks and stones may break your bones, but the food from Stix will make you forget about it. The restaurant offers wonderful service and incredible food, good enough to compete with any pricier grill and steakhouse. However, as a newer business still in development, the environment and speed of service need work. Stix is not a place to visit for cheap or quick eats, but it is one of the best for good eats.
"
Stix is not a place to visit for cheap or quick eats, but it is one of the best for good eats.
— Erin Sheffield, 12
Stix is a fairly new business open at 204 23rd Street by Best Thai and Beauty Nails II. The restaurant specializes in serving grilled food on a stick. It offers five meats (steak, chicken, pork, sausage and hamburger), along with a series of sides and salads. It also offers three meals, each including one meat choice, a side and a drink. Interested customers can order in person or via call or text to (806)-676-3336.
I visited Stix in person. The service was very welcoming and friendly. From the moment I arrived, an employee greeted me at the counter and talked me through the menu, summarizing the options and offering recommendations. Although the restaurant was by no means a diner, it offered the same vibe a small-town burger joint would: a handwritten menu on a chalkboard lining one wall, orders taken by hand, drinks offered in cans and service friendly but casual.
Speaking of the canned drinks, seeing the establishment shows its newness. The walls are painted to nicely complement the yellow/black color scheme of the Stix logo. Each table features a faux flower in a glass. Photos of the menu's options line the north-facing wall. While the owners clearly put effort into developing a pleasant environment for customers, the restaurant's features make it feel a bit cheap and unprofessional. Being in Canyon, the minimal decorations and diner vibe could be viewed as "small-town charm," but it would still be nice to see the environment improve as the business matures.
"
The restaurant's features make it feel a bit cheap and unprofessional.
— Erin Sheffield, 12
The business will almost certainly live long enough to mature, by the way, based on its food quality. I ordered a meal of steak and roasted corn, two foods I am picky about. The steak challenged that offered by pricey steakhouses. The light seasoning complemented rich, juicy meat, and while Stix offers a variety of sauces which I tried, the steak needs no dressing up. The side of corn was a lovely addition as well. I normally feel when corn is salted and peppered, the seasoning covers the natural deliciousness of the corn itself. However, this corn was seasoned just enough to improve it. I somewhat expected cheaply-produced food, given the cheap furnishings and newness of the business, but count me completely and entirely disproven. Watch out, Feldman's; this tiny little restaurant on 23rd not only rivals you, but is beating you.
Stix offers grilled, healthy eating near the WTAMU campus, along with discounted meal options and a student discount of $1. The business has Facebook and Instagram accounts and offers customers the option to text in an order, a rare feature for any restaurant. Given these aspects, one would think the restaurant is meant to appeal to modern young adults, especially the students of WTAMU.
However, despite its efforts, the restaurant will likely not become a student hotspot. The restaurant has minimal parking and seating, slow service and higher prices than the competing fast food restaurants a college student strapped for cash would likely prefer. Customers can order food to-go, but doing so adds a 50 cent fee, and the lack of drive thru means ordering like this is not very convenient. Visiting Stix for lunch as a high school student would be even more difficult. Stix may become a youth destination eventually, but now, it is simply too expensive, too slow and too inconvenient.
Overall, Stix has incredible, mind-blowing food which every Canyoner should experience. Unfortunately, the cheapness of the decorations, moderately high prices, slow service and inconvenience will likely deter a large chunk of Stix's possible customer base. Don't bother dashing to Stix for a quick meal, but save some time in your schedule to visit; each stick is worth the wait.
Leave a Comment
About the Contributor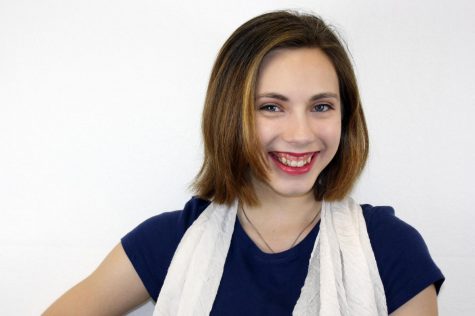 Erin Sheffield, Editor-in-Chief
Hullo! I'm a senior in my third year on staff and my second year as an editor-in-chief. You can catch most of my work in the news and blogs sections. When I'm not around the school with a camera and a press pass, I spend my time in choir, musical, various...