Barrel & Pie offers unique pizzas, dining experience
With a modern, upper class ambiance, a friendly and professional wait staff, Neapolitan style pizza with a twist and pies ranging in cost from $14 to $22, Barrel & Pie is a welcome addition to the Square, but maybe too ostentatious for its own good.
Located at 1512 5th Avenue, Suite 101, Barrel & Pie is open from 11 a.m. to 2 p.m. for lunch and 5 p.m. to 10 p.m. for dinner. Although casual dress is appropriate for this establishment, Barrel & Pie is an undeniably upscale place to dine. This is largely because of the professional and stylish waiting staff and managers who frequent tables throughout the restaurant.
"
Some customers adore Barrel and Pie, while others walk away from their dining experience left feeling unsatisfied.
— Braden Lefevre
Cool tones of blues, grays, and natural woods weave together to make Barrel & Pie a truly aesthetic restaurant. Silverware, dishes, and glasses feel unique and ultra modern, while the wooden benches and tables these items and the customers sit upon are welcoming and equally visually appealing. Customers can also peer into the open kitchen to see their pizzas being hand tossed and baked in a beautiful wood fire oven.
This openness is both entertaining and comforting as one can see the clear use of good hygiene and mindfulness the cooks display when preparing meals. That being said, the open atmosphere does little to offset the undeniably confined space of Barrel & Pie. The restaurant has only 47 seats in total, so those planning to dine in this establishment would be wise to call ahead.
The wood fired pizzas of Barrel & Pie are both appetizing and interesting. Straightforward items one would expect from a pizza place such as pepperoni, Hawaiian and plain cheese are notably absent in favor of items such as the "Spam Wow," a pizza made from Spam, pineapple, onion and jalapeno. Other pizzas include ingredients such as egg, guanciale, bruschuto and other ingredients that flirt with the more creative side of the culinary arts.
It is combinations like these that make some customers adore Barrel and Pie, while others walk away from their dining experience feeling unsatisfied. While the crust of the pizza is generally perceived well, opinions begin to quickly differ once customers view the pizza they ordered. This bold menu may delight some, while others will feel out of place and overcharged. Regardless, though it may not be for everyone, Barrel & Pie is a memorable establishment that deserves a visit.
Leave a Comment
About the Contributor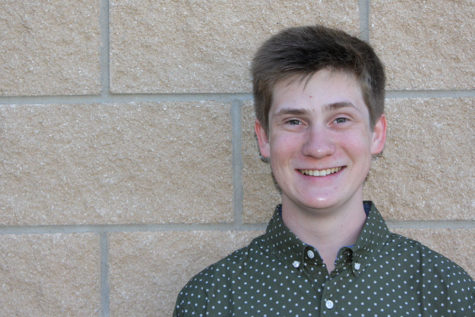 Braden Lefevre, Associate Editor
Hey there! I'm Braden Lefevre, and I am a senior at Canyon High. This is my third and final year to serve as a member of The Eagle's Tale Staff, and I am elated and honored to serve as an associate editor of this stellar publication. I am also the...