'National Lampoon's Christmas Vacation'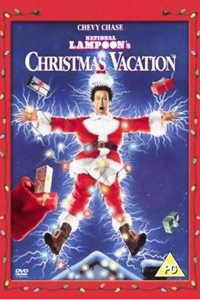 The traditional Christmas movie. A loving family, the grand Christmas tree, and of course the redneck cousin coming for a surprise visit with his travel trailer, family, and trusty dog by his side. What could be better? In National Lampoon's Christmas Vacation that vision becomes a reality.
The hilarious 1989 Christmas movie gives a new twist on the traditional holiday. Featuring Clark Grizwold played by Chevy Chase, the family man dreams of a big Christmas with all of his loved ones. From the very beginning of the movie their plans go awry.
The movie is filled with surprises and plenty of laugh-out-loud moments. It features the accident prone father Clark Grizwold, his wife Ellen who is played by Beverly D'Angelo, and estranged cousin Eddie who is played by Randy Quaid.
The other National Lampoon Vacation movies are filled with other hilarious moments.  It features the family going on different trips to places such as the Walley World theme park to a European tour.
The Christmas movie is considered one of the funniest of the movies, if not the funniest. It takes on a whole new level when you think of embarrassing family members and rude neighbors. The unforgettable moments of Aunt Bethany wrapping her cat for a Christmas present to a squirrel terrorizing the household makes this movie stand out among the predictable holiday movies.
Although this movie has many moments of being outstandingly funny, it also reminds you of the importance of family. This movie shows that without family the importance of Christmas is completely missed.
The nontraditional Christmas, the out-of-the-ordinary family, and love of the Christmas season makes this movie a must see for a good laugh a new appreciation for your out-of-the-ordinary family.
About the Writer
Morgan Hicks, Yearbook Co-Editor-in-Chief
Hi! I am co-editor-in-chief of the Soaring Wings Yearbook. I participate in UIL academics, chorale, musical and National Honor's Society. I love sarcasm, long walks around the panhandle and '80s teen movies.