Brothers inspire students with 'MadMan Mentality'
Tire flipping, rope climbing, jumping. Sweating, aching, bleeding. Fast, fierce, aggressive, precise and inspired by their uncle, brothers Braxton Butcher and Rafe Butcher train alongside their peers for MadMan, their fitness brand.
MadMan took off in the fall of 2020. Rafe, who is a senior, said the pair was awoken by their uncle, Major Airman Jason Pool, one Sunday morning. Pool took the brothers tire-flipping in their neighborhood. Beginning as a way to inspire them after their parents' divorce, working out with Major Pool became known as "MadMan Sunday."
"My uncle took me and my little brother under his wing to teach us a lot of stuff about life," Rafe said. "We get into a little bit of history about his life. He is ex-military, he's AirForce a big C-130 pilot, and his call-sign was MadMan."
"
My uncle took me and my little brother under his wing to teach us a lot of stuff about life."
— Rafe Butcher, 12
Rafe said Major Pool had the idea for the business, but did not start it because of a lack of time. The brothers took the idea over, creating the line of merchandise and continuing the business values to honor what Pool had done as an Airman. Braxton said the MadMan Mentality has become a way of life and is preparing him for the future. 
"It is helping me be a leader, learning to be responsible for my actions," Braxton, a junior, said. "Learning to present myself also gives me experience in the business field, so I can run a future business if I wanted to. It's also given me really good connections overseas and in the military." 
Both brothers said they plan on joining the military after graduating high school, switching the role of the business' president to whomever has time to run the growing business throughout training. Until then, their goal is to reach as many people as possible. 
"I want to give students something to be able to think about in their daily lives," Rafe said. "Some people at Canyon High School don't have the best lives. Me and my little brother went through our parents' divorce, and we don't have a dad. So that was a big deal for me, and that was really why we created the business; it was to help other people."
Merchandise scattered in the halls and students taking on a new challenge to develop a MadMan mentality began with the football team. The brothers gave out MadMan shirts to the team, who began wearing them on Mondays. This then became known as "MadMan Monday."
"We have people randomly buying shirts and asking us about it," Braxton said. "It makes me feel happy that people want to change their lives for the better. It feels like a job done, but not completed."
The MadMan line can be found at the school store, their website and on Instagram. After students began getting more involved, the brothers created a website to house their apparel, including bracelets, T-shirts and beanies, as well as their story.
Senior Kenadee Bennett models for the growing brand and works out as a "MadWoman." As a part of a military family, Bennett said the workouts get her pumped up to train.
"It reminds me of when I was little," Bennett said. "We would not even be in sports and have to do a workout, or we couldn't go do anything else. So, it gets me motivated. That's the mentality behind this. I think that's because he wants to be in the military. It's cool that other people get to experience how it is to be in this military family because I feel like it gets underplayed a lot."
Bennett and Rafe have been friends since seventh grade. She said after years of being his friend, she noticed him develop as a person while developing his "MadMan mentality."
"It's not just about going and lifting every single day," Bennett said. "It's more of a family that wants to push each other to achieve goals, to achieve your biggest outcome. If you're going to do something, you're going to be the best at it."
About the Writer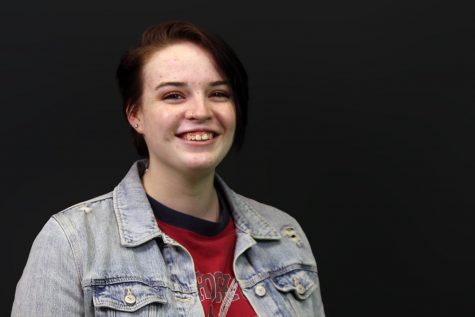 Alyssa Seaton, Staff Reporter
What's up? My name is Alyssa Seaton. I am a senior in my third year of journalism, and I am a co-editor-in-chief of the Soaring Wings Yearbook. In the little spare time I have, I write for The Eagle's Tale. I enjoy taking pictures above all else because...