Sun sets for iconic duo
Speeding through the parking lots, weaving in and out of cars, a Canyon Independent School District golf cart races to the other side of the school to stop misconduct and change lives.
Along with Eric Gomez, Blake Hurst works as a disciplinary assistant principal. They are often together, patrolling the parking lot together in the campus golf cart or walking Charlie, the Canyon High therapy dog in the halls. Hurst and Gomez are known throughout the school district as "The Boys," a nickname principal Jenifer Boren coined. After working at Canyon High for five years, Hurst will begin his new position as head principal of Sundown Lane Elementary next school year.
"They're the iconic duo," senior Hannah Hamil said. "I have a very vivid memory of the two of them from junior year. We were at a class meeting at the beginning of the year, and they came running down the aisles of the auditorium. They had these matching fanny packs with their names on them. The fanny packs were glitterized, and their names were written in gold. That's such a cool friendship to have on a campus. They're very memorable."
Hamil said Hurst provides his students with positivity that is contagious.
"He has such an enthusiasm for our campus," Hamil said. "It's super cool to see him and Mr. Gomez around school. They're like Batman and Robin or ketchup and mustard.  It's just not going to be the same without Mr. Hurst, but I'm glad he's is going on to do awesome things at another campus. He'll do amazing with the elementary school students, and Mr. Gomez will continue to do great things here."
"
Our administrators believe our jobs can be more than just paper pin and lesson plans–it's about engaging our students to do their very best."
— Eric Gomez, assistant principal
Gomez said he and Hurst have similar outlooks when it comes to impacting the students of Canyon High as disciplinary assistant principals.
"This can be a monotonous job sometimes," Gomez said. "Our administrators believe our jobs can be more than just paper pin and lesson plans–it's about engaging our students to do their very best. Whether it's playing pranks on our secretary, or joking around with students, we want to be approachable. Mr. Hurst definitely brings this enthusiasm and excitement to the job. He's always trying to make things fun and better."
Along with the other assistant principals at Canyon High, The Boys work with guardians to help students struggling with behavioral issues. They participate in pep rallies, registration and class assemblies.
"We legally have to roll out certain information to our freshmen," Hurst said. "If you read a PowerPoint with information about credits, absences and safety, it can be generic. We would create games to push that out. We wear fanny packs, play Family Feud or make a Kahoot game out of it. This way, kids are more engaged to hearing all of our rules about dress code or absents. We wanted to change the perspective of discipline, and I think we have done that."
Before working at Canyon High, Hurst taught high school English and coached tennis and football around Texas. Before becoming an assistant principal, he was the tennis coach at Tascosa High School. Gomez taught biology, forensics and anatomy and physiology and coached football at Amarillo High before moving to Canyon.
"
We wanted to change the perspective of discipline, and I think we have done that."
— Blake Hurst, assistant principal
"Gomez and I have a similar background and a lot in common," Hurst said. "Other than both having a coaching background, we both know how to talk to kids, and we both try to be positive about our job. We actually live a block from each other, and we carpool to work together. We even hang out on the weekends. We both like to have fun, and we both like to be silly. We'll do anything to make kids smile."
Hurst said there are many reasons he will miss Canyon High, including the traditions and culture.
"I'm going to miss the people on this campus," Hurst said. "Our administrative team is incredible. It's an easy place to work because our kids are so unbelievable, but I'm looking forward to building new relationships with the teachers and students at Sundown [Lane]. I'm going from one extreme to another; I'm going from seniors to kindergarteners. But, I'm looking forward to building these relationships with the kids, parents and teachers. That's what I do."
Leave a Comment
About the Contributor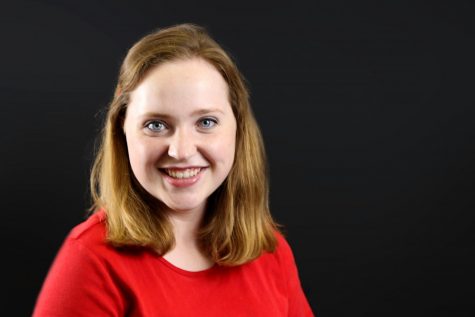 Caroline Ragland, Staff Reporter
Hi guys! I'm Caroline, and this is my fourth year in the journalism program and my third year writing for The Eagle's Tale. I am so excited to get back to working for the paper and writing about the wonderful people here at Canyon High as a senior....