Blast from gunslinger past
Staffer reflects on trip to Tombstone, Arizona
Over Presidents Day weekend, my family and I took a trip to Tucson, Arizona to a baseball tournament my brother was playing in. However, we made a few shortcuts along the way and found ourselves in Tombstone, which ended up being the highlight of the trip. At first, I expected the tiny town seated at the bottom of Arizona to be a tourist trap, but I was sorely mistaken.
"
In fact, almost everyone in Tombstone wore cowboy clothing."
— Claire Meyer, 11
My family arrived late at night, so the first thing I observed about Tombstone was how quiet the streets were; even seeing a car was a rarity. The first priority then was finding something to eat. It was no later than 8:30, yet all of the streets were dark. Starving and in desperate need of sustenance, we walked the quiet town looking for a meal. However, the only things open were three or four saloons, which we briefly stepped inside to find they were exactly what one would expect: loud, hot and serving nothing at the hour but adult beverages. It truly was like the old west. In fact, almost everyone in Tombstone wore cowboy clothing. Eventually, we found a quaint but satisfying sandwich shop, ate, and departed with full bellies.
We stayed at Virgil's Corner Bed and Breakfast, a very comfortable place furnished with era-appropriate items, like a wrought iron bed and a claw foot tub complete with a bar of soap. The place was charming and continued my journey back in time. The following morning, we ate a breakfast of two quiches, potatoes, eggs, bacon, french toast and fresh coffee, among a few other dishes. I didn't even get the chance to try it all, but what I did eat made my tastebuds backflip in joy. This seemed to be a similar theme in Tombstone: plenty to do and experience, and not enough time.
My family and I visited the intriguing Birdcage Theater that morning. It was so rich with history and was the only building left in Tombstone not renovated in some way. Bullet holes littered the ceiling, the floors were warped from wear over the years and much of the authentic yellowing wallpaper was covered to preserve it. The tour is self-led, beginning at the bar in front to the large theater that was home to original pianos and chairs. Beyond that was backstage, which featured many of the people of the Birdcage, and the downstairs poker room.
"
My favorite part about the place was the countless artifacts and stories."
— Claire Meyer, 11
My favorite part about the place was the countless artifacts and stories. From the world's longest poker game (about nine years, by the way) to simple cattle rustlers, the theater housed their tales, as well remembered as possible. Famous gunslingers like Wyatt Earp, Curly Bill, Doc Holliday and more were mentioned and even had items of significance stored in the building. It was so surreal to walk in places where they may have, and I recommend it to anyone who is patient enough to explore the expansive collection of history.
We also bought tickets to a gunfight put on by an outdoor theater, classically scheduled for high noon. The actors acted out the shootout of O.K. Corral involving the Earp brothers, Holliday and Ike Clanton, and truly brought their simple set to life. Many of them, especially the talented man playing Holliday, brilliantly performed their roles. It was a very involved experience; the crowd was asked to cheer and boo as the fateful scene of so long ago took place before our eyes.
On our way out of town, we made one last stop at Boothill Cemetery. Made up of about nine rows, the graveyard contained a few familiar faces like Billy Clanton and Tom McLaury. As fun as it was walking around and gaping at the graves, what really caught my attention was the small packet given to each guest upon entry. For every burial plot not labeled 'Unknown,' there was a quick blurb about the death of the buried. Everything from murders to mysterious accidents were noted, and I got entirely lost in the harsh stories of the past. The cemetery perfectly summed up everything Tombstone had taught me; the Old West was an entirely different world, both exciting and dangerous.
While we walked up and down the sheltered boardwalk of Allen Street quite a bit, my family and I hardly stepped inside the numerous gift shops, despite my pleas for a trench coat. Numerous attractions such as Ike Clanton's Haunted Hotel, the Gunfighter Hall of Fame, and Good Enough Mine were calling my name, but our time was limited. I am desperate to return and spend more time in the town I quickly fell in love with.
In short, Tombstone is a tiny treasure, a place full of wonder and history. I think a trip to Tombstone is recommendable to everyone and vital to anyone who enjoys history, gunfights, adventures, or lots and lots of saloons. Though next time, I'm packing a few prairie skirts.
Leave a Comment
About the Contributor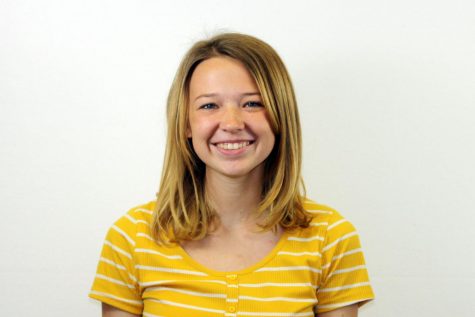 Claire Meyer, Editor-in-Chief
Hi there! My name is Claire Meyer. I am a senior, making this my third year on staff and first as editor-in-chief. When I'm not editing stories in the newsroom, I can be found working at United. In my free time,  I enjoy both drawing and writing fiction...