The science of administration
Gomez tackles new role as assistant principal
He has a degree in kinesiology, taught forensics and coached teams to success. While he seems to have all forms of physical science within his grasp, he is taking on a new challenge. He is now learning the science of administration.
Eric Gomez recently joined the Canyon High staff as the newest assistant principal.
"I worked in Amarillo ISD, and I was at Amarillo High," Gomez said. "I taught forensic science, I was the golf coach there and before that I coached football for 12 years. I loved my job, but Canyon has always been a really good school, and I have always been intrigued by the students and the staff here, so it was a really easy decision."
"
I have always been intrigued by the students and the staff here, so it was a really easy decision.
— Eric Gomez, assistant principal
Gomez graduated from Dalhart High School as a Golden Wolf.
"I loved high school," Gomez said. "I graduated in the class of 1998, and I had a lot of fun. I played football, basketball, baseball, golf–I did it all. Then, I went to college on a football scholarship to Panhandle State University in Oklahoma. I was there for two years, and then I transferred and finished at Lubbock Christian University. I also have an online masters degree from Lamar University in Belmont."
Gomez said he loved his time at Oklahoma Panhandle State University, but his next school was where he earned his degree and felt a more 'university-type atmosphere.'
"I was a small fish in a big pond again," Gomez said. "I really liked it, though. I majored in kinesiology, and I did physical therapy for a little bit. I got into PT school and decided I wanted to teach. I thought it would be more fun and more rewarding. I went back to school, got a post-bachelor degree and did a semester's worth of school work in education. I feel like I learned a lot about education and the school system from Lubbock Christian."
Outside of his time at Canyon High, Gomez said he enjoys spending time with his family, reading and traveling.
"I have four kids," Gomez said. "Mali is 13, Eleri is nine, Curren is seven, and Levi is four. I love hanging out with them. Usually, my wife and I are chasing them around Kids Inc. football, basketball and volleyball. We just took a family trip to Yellowstone National Park. I think it was fun, because it was a family thing, and all the kids were there."
Yellowstone National Park is just one of many places Gomez has visited.
"
I got into PT school and decided I wanted to teach. I thought it would be more fun and more rewarding.
— Eric Gomez, assistant principal
"I've spent New Year's Eve in New York, and I have been to New Orleans," Gomez said. "I went to the Olympics in Canada when they hosted in 2010. I've been to the Masters in Augusta and watched a practice round of the Masters. I've been to Hawaii, also. I don't have a favorite; I just have a lot of fun places and memories. The place to visit on my bucket list though is Alaska. I love bears, and I love the snow and I feel like in Alaska I would see both. I also want to see a whale and a glacier before they're gone."
Gomez said the farthest he traveled was to Kathmandu, Nepal.
"My brother-in-law was a missionary in Nepal, so we spent Thanksgiving with him," Gomez said. "That was one of the coolest experiences I've had. They are a third world country, and what we see on television is not just an imagination of how bad it is–it's a reality."
Gomez said his experience in Nepal gave him a heart for the people living there.
"We have a few kiddos we adopt through our church to send things to throughout the year," Gomez said. "I've done that since I went to Nepal. You really grow a heart for those kids and see everything they don't have, and you realize just how blessed you are to have the things you do have."
Gomez said when he is not traveling, one of his favorite pastimes is reading.
"I always have two books I'm reading and an audiobook," Gomez said. "My current audiobook is a biography about Tiger Woods. I live in Amarillo, so that's what I listen to on my way to work and home most of the time. I also get Golf Digest magazines all the time, but if I don't read it in the month it came out, I'll just throw it away because I feel like it's not current."
While past magazines do not interest him, Gomez said learning about the past does.
"I love museums," Gomez said. "If there is a museum or a historical marker, I want to stop and read it. I don't really love history, but I love museums. They're really cool. I love autobiographies. Any type of documentary, I love."
Gomez said he wants students to know they are welcome and encouraged to stop by his office anytime.
"Come say hi to me, because I'm trying to make friends just like the freshmen," Gomez said. "My goal is to learn and know every student in the school by name, so I might come shake your hand for some odd reason and ask your name. I've always wanted to do that. I'm really excited to be a Canyon Eagle."
Leave a Comment
About the Contributor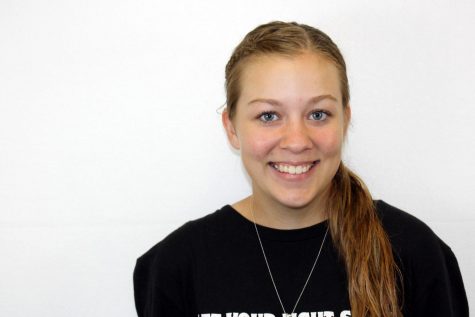 Aryauna Thompson, Staff Reporter
Hello! This is my third year as a staff reporter on The Eagle's Tale staff. I am incredibly excited to yet again work with such an incredible team of journalists. Outside of The Eagle's Tale, I am very active in the Soaring Pride Band, UIL Academics,...