Lady Eagles face Levelland in Regional Quarterfinals
Editor's Note: A group of journalism I students wrote the following story, with further editing and writing from The Eagle's Tale editors.
After defeating San Elizario 76-36 in the Area round, the Lady Eagles basketball team will face the Levelland Lobos in Plainview at the Regional Quarterfinals game tonight at 6 p.m.
"
We have to play each game like it's our last. It has definitely made us work harder.
— Chloe Callahan, Lady Eagle shooting guard and small forward
With a win tonight, the Lady Eagles will play the winner of the Krum vs. Glen Rose game. The team has an overall season record of 25-1, with a district record of 9-0. Senior Chloe Callahan led the team with 22 points in the last game. Callahan said the team is giving their all to ensure they make it to State.
"We expect the best from everyone," Callahan said. "We're at the part of the season where it's all or nothing. Everyone wants to beat Canyon, so when you step on that floor you have to know they're not going to play light; they're not going to play like you're any other team. They are going to play you like you are a State Champion."
According to MaxPreps, the team is ranked first in the 4A division and 24 in the nation. Callahan said she believes the team will make it to State with dedication and hard work.
"One game, and you're done for the rest of season," Callahan said. "We show up for every game, and everyone has the mindset that we are going in and everyone is participating. If someone makes a shot, everyone's off the bench cheering–it's not one against the rest. It's the whole team working together."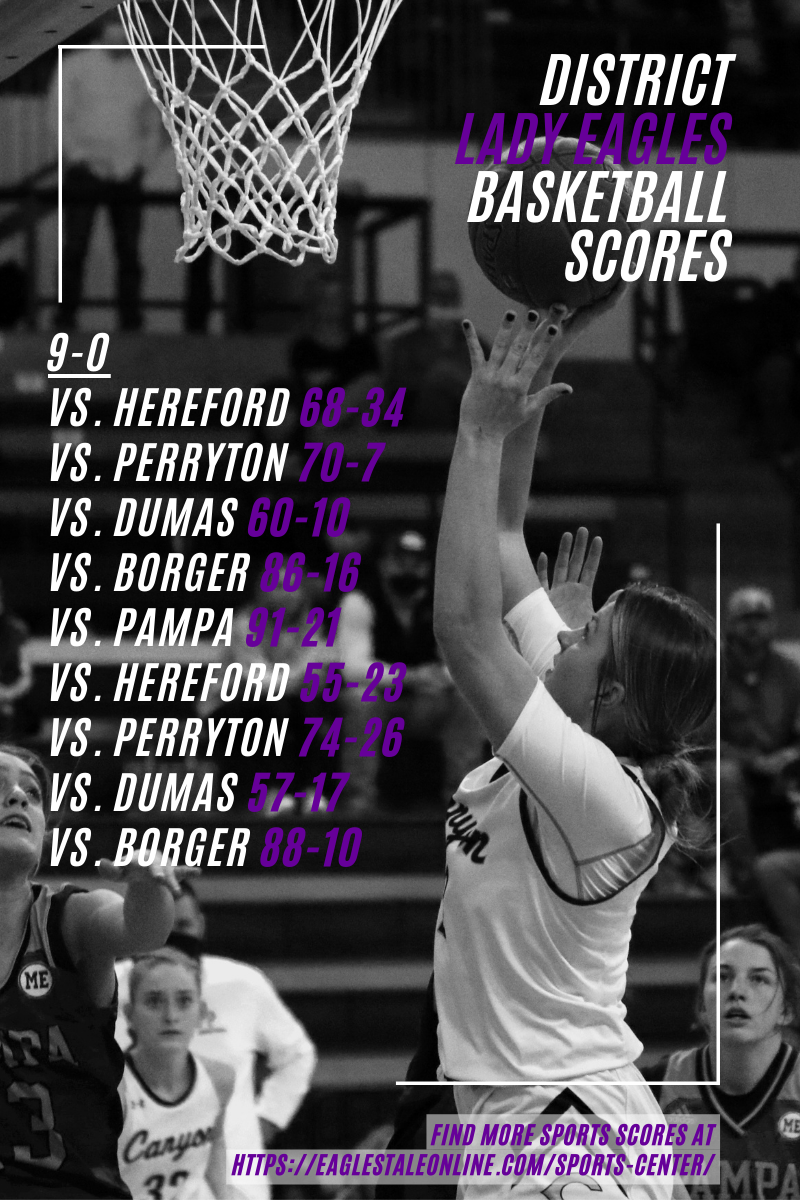 Callahan said adapting to COVID-19 restrictions and rescheduled games has made her expect the unexpected for every game.
"You never know if it could be your last game of the season," Callahan said. "You never know if COVID is going to take the rest of the school year away. We have to play each game like it's our last. It has definitely made us work harder."
The Lady Eagles have made it to playoffs for the past 35 years, but this is the first year under the direction of Head Coach Tate Lombard.
"Funny things happen in the playoffs," Lombard said. "You have to be lucky, and you have to play well. There's a lot of things that have to go right. We have a very experienced team, so they know what to expect going into a playoff game and are very motivated."
The team has scored 1,690 points compared to 696 points scored against the Lady Eagles.
"There are a lot of good teams in our region," Lombard said. "We need to play well to win going forward. We will have to play our absolute best to win each night."
Junior Taylor Thomas has been a varsity point guard for three years. Thomas said the team cannot back down from hard work.
"I think we need to not get comfortable with success, and we need to work hard every day in practice," Thomas said. "We need to push each other to be at our best. I feel really good about it. We've been playing very well and are looking good."
The Levelland Lobos enter tonight's contest with a 25-0 overall record and a 10-0 district record after defeating Greenwood 43-39.
Leave a Comment