Ayse Allison aces competition
A shot rings out and the pack moves. She feels her feet propel her past the competition as she speeds towards her goal with unwavering ferocity. Junior Ayse Allison strives toward yet another racing victory.
Allison is a veteran of the cross country team in pursuit of an individual medal at the state meet. Although Allison is known as a talented runner, she said the sport is not easy for her.
"When I first started running it wasn't natural, but it was something that went along with me well," Allison said. "I'm very big on hard work and the idea of hard work paying off. There are rarely people who can go out and just be naturally good without working hard."
"
I've always been a competitive person, but this year I feel like I've gotten a lot better at being even more competitive where it counts.
— Ayse Allison
Allison said she started running in order to follow in her brothers' footsteps. However, running now means more than family tradition to Allison.
"Running is definitely my time to think," Allison said. "I can solve a lot of problems in my head on our longer runs. In a way it's therapeutic to just go and run, and once you get fired up in your head, you are able to push yourself to go a lot faster."
With the time commitment of running regularly, keeping up in advanced classes and staying involved in school and church, Allison does not have much time to socialize with friends or family. However, she said her success would not be possible without support from family, friends and teammates. 
"I love my teammates, and we make the perfect team," Allison said.  "All of us are willing to work hard, and we are all in this for the same goal. They are all very supportive, even when someone is having a bad day. My family is also very supportive of me. I haven't been able to talk to my parents as much because I have so much homework and then I have to run in the mornings and evenings. They are loving regardless of it."
Allison said one of the keys to her success is a particularly predominant aspect of competitiveness in her personality.
"I've always been a competitive person, but this year I feel like I've gotten a lot better at being even more competitive where it counts," Allison said. "I used to get to the point in a race where I would just decide someone has beaten me, and by doing that, I was really beating myself. Now I've learned to tell myself there is still a chance at success, which has brought me back into a race twice now."
Allison said as she has gained experience in cross country her mentality has changed, and she wants to share her success by offering advice to those who wish to become skilled runners.
"My advice to aspiring runners is to find your motivation," Allison said.  "Many people can't find their motivation so they can never really get better. I like to find motivation out of questioning how I will do at state. If I'm going to put in all these hours and then get a 110 at state I feel like I'm wasting time, so I set goals and say I'm going to beat this person or make this time, which helps me to keep moving forward." 
Allison said her success in cross country has given her opportunities to express her faith, and through hard work and the help of God, anyone can become skilled in any activity they choose to practice.
"I consider myself to be a strong Christian, and part of being a Christian is reaching out to others even when you are in the spotlight and showing others even though the spotlight is on you that doesn't give you the right to be a jerk to people," Allison said. "You don't have to be a jock to be a good runner. You don't have to be a boy to be a runner, and you don't have to only be a runner either. You can still be involved in other things and live a balanced life."
View Comments(1)
About the Contributor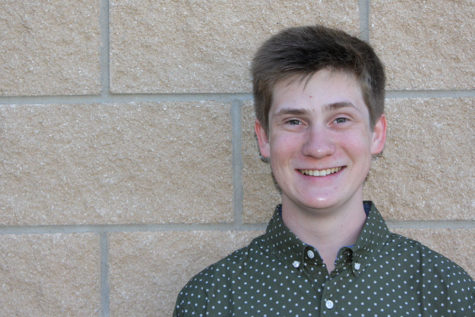 Braden Lefevre, Associate Editor
Hey there! I'm Braden Lefevre, and I am a senior at Canyon High. This is my third and final year to serve as a member of The Eagle's Tale Staff, and I am elated and honored to serve as an associate editor of this stellar publication. I am also the...