Back-to-School Blood Drive begins Aug. 24
Students and Canyon High staff can donate blood in the Back-to-School Blood Drive Monday, Aug. 24 and Tuesday, Aug. 25. Run by the Coffee Memorial Blood Center, the drive will be in the upper commons.
Sixteen-year-old students are required to provide a signed parent permission form to donate; students older than 16 are not. Donation appointments can be scheduled through Key Club sponsor Lance Culbert or by filling out the Google Form emailed to students. 
"A good goal is 100 donations," Culbert said. "But there's always people that are deferred, so we always need more than our goal. In October, we'll have a drive, and then in February, we'll have a drive. So the goal is for Canyon High School–over the course of the year–to have between 300 and 350 donations."
Potential donors may be deferred because of a variety of reasons, including age, weight and medication use.
"Just because you're deferred one time does not mean that you can't ever donate again–it just means that you're maybe gonna have to wait," Culbert said. "It's just important that we all do what we can do. Because not everybody can donate, and if everyone that could donate did donate, we would never have to worry about the blood supply at all."
"
This is such an important thing because it provides something that really cannot be provided any other way."
— Lance Culbert, Key Club sponsor
Although the blood drive is typically open to community members, this year donations are restricted to students and faculty. A community blood drive will be held Saturday, Aug. 29 at Cole Community Center, and those interested can make an appointment for the drive here.
"We are really glad we're able to do this because we know that visitors to campus are really restricted, but this is such an important thing because it provides something that really cannot be provided any other way," Culbert said. "Especially in the high school population, you're not going to have as many people who can't donate, because everybody's younger–generally healthier, they don't have as many medical conditions, and so this is just something you can do."
Participants are encouraged to hydrate and eat large portions at meals the day they are scheduled to donate blood.
"As far as things that can keep you from having an adverse reaction to your donation, you wanna make sure that you are really well hydrated," Culbert said. "Drink way more than you're used to so you have lots of liquid in your body. Make sure you eat a good breakfast if you're donating in the morning and a good lunch if you're donating in the afternoon; that more than anything will help you." 
Donors will complete an online medical screening the day of donations. A code will appear after completing the screening which will then be scanned by volunteer workers to allow the donation.
"What I love about coordinating blood drives is I always see a first-time donor overcome their fear and donate," Culbert said. "Even if they don't physically feel fantastic afterward, they always say they're happy they did it. Getting over that fear of the unknown when it comes to blood donation is fantastic."
Leave a Comment
About the Contributor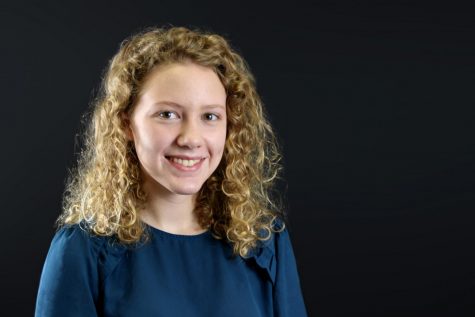 Abigail Bell, Managing Editor
Hi! My name is Abby (with a "y"), and I am elated to be managing editor this upcoming year. This will be my second year on staff, and I consider myself extremely lucky to be a member of this awesome team. I am a junior this year and am one of three drum...