On Aug. 15, Principal Jennifer Boren informed faculty that CISD will be enforcing a new policy restricting animals from being on any campus. This new policy directly impacts having Charlie, Nurse Paige Tucker's therapy dog, as well as educational animals used by the Ag department at Canyon High.
This policy, put in place by Superintendent Dr. Daryl Flusche, was made with consideration of students and staff with allergies, the impact on cleanliness in the workplace, the anxieties caused from seeing pets and potential injuries to students, staff, and the animal.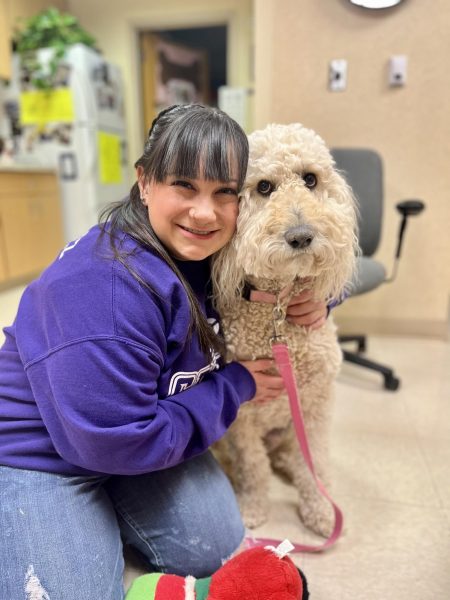 "I know not every student can write letters to him [Dr. Flusche] and tell him, but it would do my heart good for him to realize what an impact Charlie makes," Tucker said. "And to me, even if she just helps one kid, she serves her purpose." 
Tucker said she feels sad about the decision, but was most sad for the students and staff that took advantage of the resource Charlie provided and the reassurance she gave. Charlie has been serving Canyon High since 2020 by providing comfort, support and helping stabilize intense emotions. If people came to the nurses office she would greet them. She would let people hug her, pet her, take her for walks, go to class with them, and play ball with her. This would have been Charlie's fourth year on campus.
"When I worked at the hospital we would have pet therapy dogs," Tucker said. "As a nurse we were just as excited to see the dogs as the patients were." 
Pet therapy animals are trained to provide comfort, affection, and support much like Charlie who is well mannered, good tempered, docile, friendly and an affectionate goldendoodle. To become pet therapy certified the animals must go through obedience training and a series of three observations. During these observations notes are made about how the animal will react to all kinds of touch and how the animal interacts with people. They have to watch how the animal responds to people of all ages, wheelchairs, crutches and everything. This animal must also be respectful of other dogs and other people's personal space. 
According to the National Association of Secondary School Principals, relationships with pets can relate to a person's health. Studies show that pets can reduce stress, anxiety, and can improve mental well-being. It is not news that many teens struggle with depression and anxiety. So, having a therapy dog on campus can alleviate some of these anxieties, and help students become more happy.
Jennifer Barton teaches Small Animal Management and Equine and a Vet Medicine Application class. Barton said she feels animals are key to hands-on learning in the classroom. 
"I hope the district and state look into exceptions to this policy for student learning and also support animals such as Charlie," Barton said. "There is always a story behind every new rule and policy; I don't know what that story is."
Barton said she feels there needs to be adjustments made to that policy for campus-wide support animals and also for the learning environment. In Vet medicine and small animal management Barton teaches students animal restraints. Having animals in the classroom gives students real world training and experience in handling animals.
 "A stuffed animal is going to weigh a few ounces, and it's not gonna fight you," Barton said. "Whereas when you have a live animal you're going to experience that dog or animal showing resistance towards you or whoever is trying to restrain it." Restraining the animals is needed for toenail trimmings, shots, and blood draws.
At the time of publication Barton and Tucker have both sent exception forms to the district for consideration. Canyon ISD will accommodate service animals in accordance with the law but Charlie is considered a pet therapy animal.