Key Club continues 'Kiss A Senior Goodbye' tradition
Students and community members can gift seniors "Kiss a Senior Goodbye" notes from Key Club free of charge by filling out the Google Form by 11:55 p.m. Saturday, May 9.
The notes are a Canyon High tradition in which a personalized message from the sender is placed in graduates' seats at graduation practice. Because of the changes to graduation this year from the COVID-19 pandemic, the notes will instead be printed and delivered to seniors while at their graduation service. Over 700 messages have been written for seniors through the form.
"
If we can preserve a little bit of what they lost, that is important."
— Lance Culbert, Key Club sponsor
"'Kiss a Senior Goodbye' was a project Key Club started about 10 years now," Key Club sponsor Lance Culbert said. "It was a project another Key Club had done, and it had success with, so every year we do it about this time. This year, with all the social distancing and because of how different graduation will be, we created a Google Form, which is public. We wanted to still do it however we could."
Culbert said the notes will likely be done this way in future years because they allow more people to submit messages. There are no limits to how many messages an individual can submit.
"I still want them [seniors] to have good memories of Canyon High," Culbert said. "It is something cool that we have done for a while; it is a tradition. I have had many students come back to me years later, and they would say to me 'I was going through a box of stuff the other day, and I kept that. I didn't know how much that would mean to me until much later.' It is hard to explain, but it will be good for them to hear from people they didn't expect to hear from."
Culbert said he hopes continuing the tradition will keep some normalcy for the graduating class.
"They have had a quarter of their senior year taken," Culbert said. "And it is the quarter they really remember, because that is when prom happens, end of year banquets happen, scholarship night happens and especially graduation. They didn't really get any of that, and this is one thing that won't be really different. It's not a part of graduation, it is a part of the end of the year, and if we can preserve a little bit of what they lost, that is important."
"
It's a great idea to still do them because it's a chance to uplift one another during these tough times."
— Amanda Roberts, 12
Senior Amanda Roberts said despite the changes to graduation, the notes are a way to notice the hard work seniors have put in to high school.
"It's a great idea to still do them because it's a chance to uplift one another during these tough times," Roberts said. "It is also very heartwarming because it tells you that someone took time out of their day to put a smile on your face. It feels unreal because it seemed like everything moved really fast, and it shocks me that I am about to graduate."
Roberts said the notes will still impact seniors because of the friendships and memories they made in high school.
"I would say to my class even though this isn't the way we wanted graduation to go and how we wanted to make memories, these notes could comfort us by letting us know we are not alone during this time," Roberts said. "The notes will make a positive impact on me because it tells me I made an impact on others and provided joy to others. It still gives off a little piece of normality we would've had if none of this happened."
About the Contributor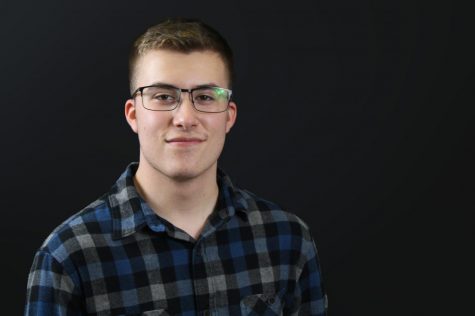 Blake Loria, Editor-in-Chief
Howdy! I'm Blake Loria, and I want to pursue a career in journalism, so I am honored to be serving as editor-in-chief for my third and final year on staff. As a senior, I am quite involved around Canyon High, so when I am not editing or practicing for...