Horton hears a homecoming date
Junior uses musical reference to propose date
Fluffy pink clovers guide junior Evely Ludington to a sweet, "Seussical"  homecoming surprise. 
Using the theme of the upcoming musical, junior Josh Moreno asked Ludington to homecoming. 
"I really waited to ask until after our cast list came out," Moreno said. "On the sign that I made, it says 'Not only does Horton hear a who, but he also wants to come to homecoming with you.' Being that I got Horton in the musical, I didn't want to make the sign and then not get it."
Moreno created 100 clovers to lead Ludington to the theater classroom.
"I saw the clovers and I was like 'huh'," Ludington said. "I didn't even process it really until we got to the stairs. I saw Ally [McBroom] filming, and I sprint-walked to the classroom and then I saw the tunnel. It was the cutest thing."
Other students in the theater class were in on Moreno's plan.
"Everyone in our eighth period helped me line the clovers and distract her," Moreno said. "They were in a tunnel [in the classroom] holding one over her. I was freaking out the entire time."
Ludington said she knew Moreno was going to ask her.
"I knew he was going to ask me at some point and whenever he asked my favorite colors, I knew," Ludington said. "I didn't know it was going to be that wild and great. I expected it to happen, but not that day or like that until I saw Ally filming."
Leave a Comment
About the Contributor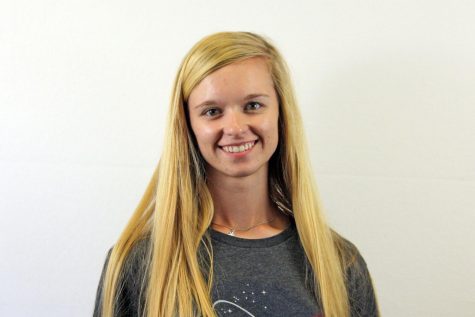 Macy McClish, Editor-in-Chief
Hey! I'm a senior and this will be my third and sadly final year on staff. I am currently one of the three editors-in-chief and the senior drum major for the band. I'm a true coffee addict who loves all the pups. In the rare situation I'm not on the band...