Trainers set athletes, futures in motion
Early mornings. Blistering heat. On the field. On the court. Beneath the Friday night lights. Heavy-lifting. Hydration. Tape. Brace. Therapy. Family. This is no ordinary team. While they are never playing on the field, they are crucial to the game.
The student athletic trainers are taught by head athletic trainer Todd Bowman and are responsible for much of the care Canyon High's sports teams receive on and off the field.
"I recruit student trainers from the junior high," Bowman said. "Ideally, I like to have five to six trainers in each class. That gives me 20-25 student trainers to help me cover each of the sports we have. Basically, I teach them first aid, CPR, taping different types of injuries and splinting. They have to cover a lot of practices I can't be there for. They handle a lot of injuries until I can either get there to look at them, or until they can send the injured athlete over for me to look at them."
"
It's not a sport, but sometimes it feels like it with all the work we have to do."
— Jescelin Hardy, 12
Bowman said each student trainer helps cover two sports, one in the fall and one in the spring or winter.
"Most trainers I have cover football in the fall just because I have three teams and it takes a lot of support to cover them," Bowman said. "They will cover practices, they are responsible for going to games. Basically the coaches will help them if they are in a tough situation, but they are there to help the coaches. If an athlete needs something, they go to the student trainers because they know that's what they're there for and that's what their role is."
Senior Jescelin Hardy has been a part of the athletic training program for four years.
"With football, we have to go to absolutely everything except morning lifts," Hardy said. "We are there throughout summer practices and the rest of the year. On Saturdays after games, we come up and take care of injuries and everything. With basketball and baseball we're at all of their games. It's not a sport, but sometimes it feels like it with all the work we have to do carrying the equipment, walking, taping, running out onto the field when someone is injured, picking up a 200 pound guy and carrying him off."
Hardy said the trainers help tend to injuries, prevent possible injuries and ensure the team stays well-nourished throughout each game.
"If it's a small injury, we give them ice or heat or stretch them," Hardy said. "If it's worse, we tape it, put it in a brace. If it's worse, crutches. If it's worse, doctor. In athletic training, we are also responsible for making sure their nutrition is okay throughout the game. We give them bananas, oranges, water, Gatorade and Powerade. We pre-tape for injuries and make sure they're prepared. We don't get much credit for what we do, but we still love it. "
"
I am definitely going to take my passion for the medical field with me when I graduate."
— Gracie Tidmore, 11
Bowman said he strives to create an interest for the medical field in each of his students.
"It doesn't always have to be athletic training, it could be physical therapy or occupational therapy or I've had several students become nurses after they've trained with me," Bowman said. "It's just an interesting medicine that gets them started. That's what I'm trying to do in my high school program is to get them interested in the medical field and be involved in a program while they're in high school that might prepare them for that and let them be involved with athletic teams."
Junior Gracie Tidmore said athletic training is what sparked her passion for medicine.
"I am definitely going to take my passion for the medical field with me when I graduate," Tidmore said. "It's been really cool to get hands-on experience and learn about what people need, so I'll definitely take that passion with me. I'm thinking I may want to work in naturopathy which is how you deal with medication and stuff, but it's natural. I'm not a hippy or anything, I don't have anything against medicine, but I'm really fascinated with the herbs and essential oils and stuff. It would also be cool because I could do acupuncture. But training has really just sparked that interest in me so I can do medicine."
Bowman said what makes his teams unique is the differing personalities brought to the table by each student.
"We're looking for kids who can be leaders," Bowman said. "I like to help develop leadership qualities, but I don't know that every student that I ever get comes in and has those qualities right off the bat. I want kids who have good work ethics and who are good students. I tell my students that they are student trainers. Student is first priority and trainer is second priority. I want them to be good in the classroom and do well there. From that point basically, I will work with each kid. I get different personality traits. Some students work, work, work and they lead by example. Then I have others who are a little bit more vocal and try to lead in different ways."
"
We are blessed to have the great coaches and athletic programs we have here, just like I am blessed to be a part of this high school."
— Todd Bowman, head athletic trainer
Tidmore said the best part about the athletic training program is the team aspect.
"You get so close to the team especially in football season," Tidmore said. "We're around each other for hours after practices and on game days–it's like a really big family.  My favorite part about training is all the relationships you make, especially with Todd, he's like another dad which is cool. And the other trainers and I are all best friends now, which is cool because I may not have had the opportunity to know the upper and lower classmen because of our different classes and interests."
Bowman said the student trainers are crucial in helping him balance each of the many sports teams.
"They're my eyes and my ears," Bowman said. "I can't be on the freshman football field with the freshmen and with varsity and with JV, so if they see something or see an athlete who isn't quite acting right, they let me know so I can go over and evaluate. Our team of athletic trainers is a jack of all trades. We have to be prepared for anything. We are blessed to have the great coaches and athletic programs we have here and my kids are blessed to be a part of those programs, just like I am blessed to be a part of this high school."
Leave a Comment
About the Contributor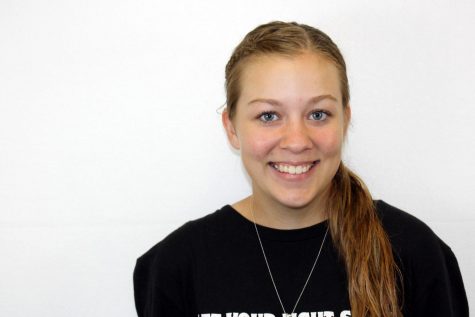 Aryauna Thompson, Staff Reporter
Hello! This is my third year as a staff reporter on The Eagle's Tale staff. I am incredibly excited to yet again work with such an incredible team of journalists. Outside of The Eagle's Tale, I am very active in the Soaring Pride Band, UIL Academics,...