Vintage Whimsy offers DIY art studio, events
On the intersection of 23rd Street and 5th Avenue, accompanied by the usual restaurants and storefronts, a tall brown building bleeds bright paint, chevron ribbon and glitter.
Swooping letters announce it as Vintage Whimsy, a do-it-yourself art studio offering classes, events, open paint sessions, custom orders, parties, online classes, grab-and-go paint kits and a continuing list of other services. The floral doodles adorning the front windows occupy one side of its lobby presenting event schedules, services and a massive, hand-painted clock covering a full wall. It is a business bursting with color and patterns, and it is a business bursting with passion for art.
Owned by Ceeli and Michael Hunt, Vintage Whimsy opened June 30 as a second location to the main studio in Pampa. Open paint is offered during regular business hours and costs $40 for a cutout and six ribbons. Customers can visit Tuesday through Friday from 3 p.m. to 8 p.m., Saturday from 10 a.m. to 7 p.m. or Sunday from 1 p.m. to 4 p.m. Although the couple runs the business and creates custom orders, neither have a professional background in art.
"
We have tons of classes we offer."
— Ceeli Hunt, owner
"I'm a teacher by trade, and I've always painted," Ceeli said. "We knew that whenever our daughter graduated high school, this was kind of a dream of mine, to have this studio. We wanted to do something together."
Customers can visit the website and attend events such as Girls' Nights Out and camps for children.
"We have tons of classes we offer," Ceeli said. "We try to keep them new and fresh with the trends that are hot right now. We do lots of different events for the fall, and we do lots of events for Christmas."
Ceeli said finding a building in Canyon was a challenge.
"We had to have something that had three rooms, because we wanted to have a studio, a glitter room and a party room," Ceeli said. "When we finally did that, we had to hire all the employees. We had to make sure we had the right employees that know how to work with the public and make everybody feel special and unique when they come in."
"
We ship all over and get to meet all kinds of different people from all over the world."
— Ceeli Hunt, owner
At all of its storefronts, physical and online, the business also offers pre-made decorations in addition to custom orders.
"We do custom orders all the time," Ceeli said. "Last week, we had something go to the Netherlands. We ship all over and get to meet all kinds of different people from all over the world."
Ceeli said one of the most interesting past orders was a series of life-size monkeys.
"We have a woman we cut eight or 10 monkeys for," Ceeli said. "She had been to South America, and when she looked out her window, she could see the monkeys in the tree. She decided she wanted to look outside and look at her trees and it remind her."
Although she did not major in art, Ceeli said she started painting at age 4.
"It's something that has always been a therapy for me," Ceeli said. "My daughter would sit beside me with a little card table when she was little, and we would paint. It was something we would always do together, and I loved it."
Ceeli said she wants to touch other people in the way art has helped her.
"I've always worried about everything," Ceeli said. "I want to be a therapy. I want people to be able to come in here and for two or three hours not to have a worry in the world."
Leave a Comment
About the Contributor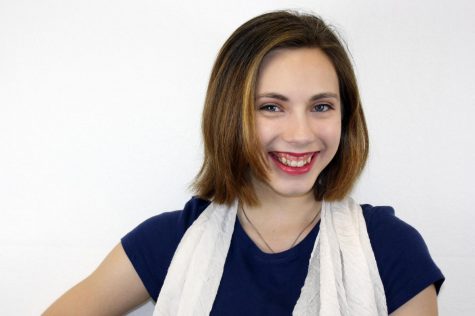 Erin Sheffield, Editor-in-Chief
Hullo! I'm a senior in my third year on staff and my second year as an editor-in-chief. You can catch most of my work in the news and blogs sections. When I'm not around the school with a camera and a press pass, I spend my time in choir, musical, various...