Served with love
Randall High School offers lunch to Canyon High faculty
"How lucky I am to have something that makes saying goodbye so hard."
The Winnie the Pooh quote on a small poster adorns the edge of a table. Behind the table stand teachers and students bearing a line of black aprons, each decorated with a silver "R" stitched on the chest. The volunteers slide back and forth with shiny serving spoons poised between glove-adorned hands. As they move up and down the line of food-topped tables, they beam smiles and strike up conversations, focused not on competition, but on support.
Randall faculty and students served lunch to Canyon staff Monday, Nov. 6 in the upper commons in response to the recent deaths of teacher Debbie Crenshaw and Tatum Schulte, daughter of Coach Travis Schulte. The group also donated breakfast to the Crestview faculty Tuesday, Oct. 7 in memory of former principal Shelly Willeford. Randall family and consumer science teacher Jodi Hooten first suggested the meal service to Randall High School principal Steven Singleton.
"I emailed Singleton and said, 'We need to do something for them,'" Hooten said. "We were overwhelmed before with the Crenshaws, knowing they still have a daughter here, and then Tatum died. It was overwhelming even for us to think about the trauma. We're humans, and we've got to take care of each other."
"
We know it's hard, but we love you no matter what.
— Jada Longbine, Randall High School junior
Senior English teacher Nicole Moore said the group showed camaraderie and unity between Randall and Canyon High Schools.
"What this shows is there's not a divide between the two schools," Moore said. "We're here for a common purpose. We're here to learn. I appreciate the unity that's being represented here."
The group raised money by taking donations from Randall students and faculty in buckets.
"We put whatever we had into the buckets just to make you feel like you're going to get through it," Randall junior Jada Longbine said. "We know it's hard, but we love you no matter what."
Moore said she did not expect the gesture.
"We were just dealing with our hardships and sending up prayers, and here, we have this really nice gesture that all of the sudden came to us," Moore said. "People are thankful and grateful. Hearts are softened because they took the time to do this for us."
Hooten said she hopes the meal shows a non-competitive, caring side to the schools.
"Our bottom line is that we care about you," Hooten said. "Yeah, we're competitors, but we're also humans. We're in the same school district, and we need to take care of each other."
View Comments (2)
About the Contributor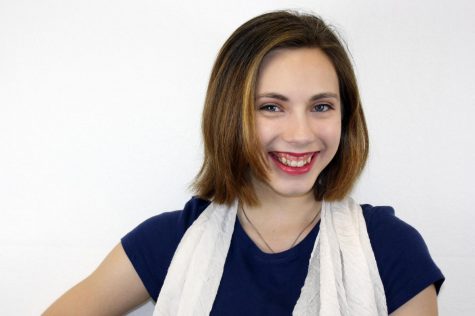 Erin Sheffield, Editor-in-Chief
Hullo! I'm a senior in my third year on staff and my second year as an editor-in-chief. You can catch most of my work in the news and blogs sections. When I'm not around the school with a camera and a press pass, I spend my time in choir, musical, various...