Laughing through life
Grateful family, friends remember Debbie Crenshaw
Pictures of her children and grandchildren surround her desk, overflowing onto almost every shelf of her bookcase and onto pegboards on either side. Mixed in with the family photos is a news clipping: "Coaching couple battle cancer." Yet the story is the only evidence of her battle with the disease. Large boards with "Faith" and "Love" printed on them sit on the shelves, while a large poster saying "Keep Calm and Smile" hangs on the wall near her smart board. Over the smart board, a giant pencil hangs like a prized marlin, and her name is stapled in large, colorful letters over the additional row of whiteboards nearby.
Though she no longer stands in room 1104, Debbie Crenshaw left a classroom overflowing with her personality, acknowledging life's difficulties yet focused on its joys. Although her room portrays a woman full of life and love, the memories of her friends and families do so even more.
"
She would never let you think for a second that she didn't love you."
— Ty Crenshaw
Algebra I teacher and junior varsity volleyball coach Debbie Crenshaw died Friday, Oct. 27 after being diagnosed with bone cancer in August. She is survived by her children, Ty, Wes and Emma Crenshaw of Canyon. She is also survived by her daughter and son-in-law Kayce and Alex Davis and grandchildren Jordan and Carter Davis of San Antonio.
"My mom was very loving," Ty said. "She always put us kids first. I found out her cancer had come back while I was at A&M, and I would ask her probably once or twice a week, 'Hey, do I need to come back to Canyon?' She would always tell me 'no.' She wanted me to be there, because she knew I was happy there."
Ty said his mother was easy to talk to because of her concern for her children's welfare.
"In conversation with her, I always felt at ease," Ty said. "A lot of stressful things could be going on, but with anything coming in life, I always felt a little bit better talking to her. Even if it wasn't about that, being able to be with her, it was always calming just because you knew you were loved, and she would never let you think for a second that she didn't love you."
"
Not once did she ever question her faith."
— Sara Morath, coach
iConnect teacher Jessica Ray said Debbie Crenshaw's concern for others over herself extended to her friends and coworkers.
"She didn't ever worry about herself," Ray said. "She worried about the pain that was going to be inflicted on her children, and on her friends, and on the volleyball team and on the math department. She just kept saying, 'I'm so sorry.' She has no control over what's happening to her, but instead of feeling sorry for herself, she was feeling sorry for all of us."
Volleyball head coach Sara Morath said Coach Crenshaw stayed positive throughout her time diagnosed with cancer.
"Not once did she ever question her faith," Morath said. "Not once did she ever complain. Not once did she ever feel sorry for herself or her situation. Now that she's out of pain, and we know she's in heaven, some closure is good. Now, we can laugh and remember her for how she was."
American Sign Language teacher Chelsea Phemister said one of her favorite characteristics of Debbie was her sense of humor.
"
Even toward the very end, she still had her humor about her."
— Chelsea Phemister
"Even toward the very end, she still had her humor about her," Phemister said. "I know if it was me, I'd probably let everything fall and be like, 'Woe is me,' but she still had her sense of humor and was making sure everybody was laughing and having fun."
Ty Crenshaw said one of the ways his family will honor his mother is by remembering the fun they shared with her.
"She always wanted to be involved in the conversation," Ty said. "The rest of us would all be in the living room, talking about something, and we'd laugh really hard, or there'd be a loud noise, and she'd be in the kitchen, cooking or doing dishes, and she'd yell from there, 'What's going on?' We started calling her the 'other room talker' because she would always do that."
Morath said Debbie Crenshaw was very strong in her faith throughout both her own illness and the illness of her husband, Guy, who died in 2014.
"One of the things she and I talked about was her faith," Morath said. "Even after Guy passed, she didn't lose her faith. When she was diagnosed, she still didn't lose her faith, and that was something she talked about with her kids."
Senior Brantley Bristow, a family friend and former student of Crenshaw, said the Crenshaw family's faith is helping them through the death of their mother.
"Watching them through this journey has been really eye-opening for me," Bristow said. "How much faith and trust all three of them have in God–that's what's getting them through."
Ty said the Crenshaw family is doing well, considering their circumstances.
"
I just want it to be known she very much loved and was grateful for everything Canyon has done for us."
— Ty Crenshaw
"I think what's not okay is assuming we're terrible," Ty said. "This was a big loss, but we still have each other, and we try to celebrate her life as best we could. We believe she's in a better place. We believe she was saved. We'll be better as time goes along, but right now, we're doing well, especially with the community surrounding us and us being able to be there for each other."
Ty said the community has supported his family in both tangible and intangible ways.
"Pretty much any basic need you can think of, people have either offered or done," Ty said. "Also, the emotional support, and every other kind of support that you can't necessarily track–that has been incredible, too. People just wanting to be there for us, and hurting for us–it's been good to see, and very encouraging."
Ty said Crenshaw was grateful to the community for their outreach during both her husband's and her own battles with cancer.
"You can't really give back the amount people have given to us," Ty said. "I just want it to be known she very much loved and was grateful for everything Canyon has done for us."
Ty said Crenshaw's memory lives on with her children.
"One of the best compliments I think people could give my mom was people will say to me 'Your mom and dad did a great job raising y'all,'" Ty said. "So any time people say something like that I know it's a celebration of her. Anything we do, people can see 'Wow, that mom was a good mom.'"
View Comments (2)
About the Contributor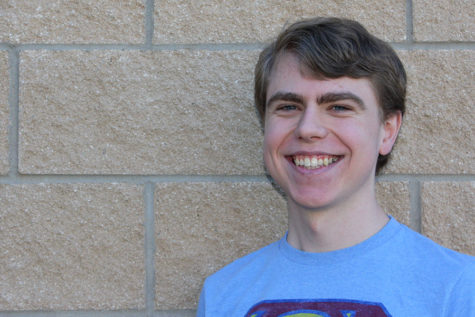 Jaren Tankersley, Co-Editor in Chief
Salutations, I am Jaren Tankersley. I am a senior, and I am very excited to spend my third and final year on the Eagle's Tale staff as Co-Editor-in-Chief. I am vice president of the class of 2018, vice president of our NHS chapter and vice president...