Band to compete in UIL Saturday following early contest success
Having placed first and second in two different marching competitions, the Soaring Pride Band has begun their contest season with two new trophies to add to their collection. The band will once again take the field this Saturday to compete in their first UIL competition of the season at Dick Bivens Stadium in Amarillo at 8:45 p.m.
The Soaring Pride Band competed in the High Plains Marching Festival Oct, 3 where they placed second overall. The color guard also placed second in their category, despite the extreme rain and low temperatures that canceled the finals of the competition. One week later, the band competed in the Lubbock Westerner Marching Festival, where they placed first in the 5-A class.
"I was extremely happy with how we ranked at High Plains, however, our show was riddled with problems," band director Mike Sheffield said. "I'm really glad that everything worked out well for us, but I wish that the finals hadn't been canceled, because I know for a fact that we had a better performance in us, and I think we all wanted to redeem ourselves. The weather just wasn't on our side."
Having entered contest season, Sheffield displayed confidence in the preparation of his band.
"
This band isn't afraid to work hard, which is one of our greatest strengths."
— Mike Sheffield
"I feel really happy with the way we've prepared for the coming challenges," Sheffield said. "We haven't wasted any time whatsoever during rehearsal, and now that we are beginning to compete in more contests, the students better understand what it takes to be successful and what it takes to perfect the show when competing with all these great bands."
Sheffield said he feels like by district and area contests, the band will have definitely hit its stride.
"Of course, we'll be a little nervous, but that's just natural" Sheffield said. "We have a good shot at making it to state because of how well we have rehearsed. This band isn't afraid to work hard, which is one of our greatest strengths."
Junior drum major Maddy Edwards said that the band is progressively becoming more prepared for the coming contests.
"We all work incredibly hard every morning, and it seems like everyone has a really great attitude about what we are trying to do," Edwards said. "To me, all of these things are really encouraging and make me believe that we will do well in the coming contests."
One of the main movements of the band's show, "Winter Solstice", is a tuba solo performed by leadership team member and first chair in the honor band, Isaac Ortiz.
"I'm playing a solo in our show this year," Ortiz said. "My solo is in a segment called "Dance of the Sugar Plum Fairy. My solo involves a descending scale that happens at least five times in my part.  It's probably what most people would recall when they think about this piece. During that solo, I feel like I get to let my character show, which is a cool feeling."
Ortiz said he is proud of the show he and his peers are working on together.
"Right now, the show is very powerful," Ortiz said. "When we play, we're speaking all of these words that we are trying to communicate to the audience. It's definitely defining us, and it's turning out to be something very special. I feel like I could look at this show and say that this is the best marching season I ever took part in."
Leave a Comment
About the Contributor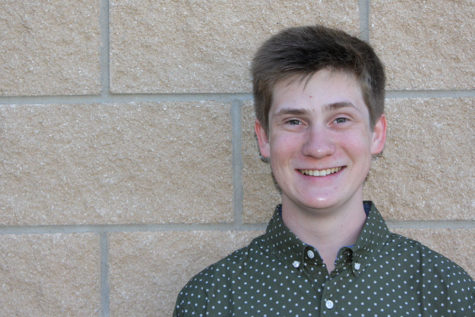 Braden Lefevre, Associate Editor
Hey there! I'm Braden Lefevre, and I am a senior at Canyon High. This is my third and final year to serve as a member of The Eagle's Tale Staff, and I am elated and honored to serve as an associate editor of this stellar publication. I am also the...