Living life with legacy in mind
Hang on for a minute...we're trying to find some more stories you might like.
A pastor's daughter around age 8 sits in the large red chairs at church neglecting children's church, because she wanted to be filled with something deeper. She enjoyed the fun and jovial games which children's church presented, but being with her parents and learning something deeper than she could imagine was truly what she desired.
I suppose this is where my love for ministry stemmed from. I loved watching my dad on stage, speaking and teaching something he was so passionate about. He expressed his message ideas all throughout the week, and prayed tirelessly for God to speak through his message.
As a little girl, I viewed the world from afar. Dreaming of the perfect, ideal world which would one day be mine. My innocent eyes took me to a place of love and constant hope. Through these eyes I saw the kindness inside my parents and sister. I saw the desperation and confusion of the world. I saw the past, the present and my future. My eyes would lead me forward into my purpose and on to creating my legacy.
"
My eyes would lead me forward into my purpose and on to creating my legacy. "
— Sydney Gadberry
Legacy: something which has been on my mind lately. As a junior approaching my senior year, my future is one of the prominent things on my mind. A few months ago the thought of adulthood frightened me, and, honestly, some aspects still do, but when I think about fulfilling my potential, all the doubts drift away. Everyone has greatness in them. Sometimes, it's blunt. Other times, it's hidden. But the way to unlock greatness is to visualize legacy. Once a person knows what they want in life and knows the type of person they want to be, they can begin to understand their purpose and how they can impact the world.
Two summers ago, I went to Uganda on a mission trip. While I was there, I felt like God called me to do full-time ministry. As he was speaking to me I started to realize how comfortable I was at church and on the mission field. It's where I felt like my truest self. It's where I felt my passion erupting–something I had never felt for anything else. This was my calling.
Of course the doubt set in, because I was only around 15. Despite this, I knew in my heart ministry was my way of contributing to the world. God would use ministry as my outlet to speak the truth.
I want to one day look back on my life and see a powerful godly woman who did everything in her power to help others. I want to see someone who always stood in her purpose, who always had faith in God and hope for mankind. Someone who changed the world, or at least tried to.
"
Without purpose, relationships become tepid and lack meaning."
— Sydney Gadberry, 11
Every person has a legacy, whether it's one filled with stories of passion and fulfillment or a life of nothingness; it all depends on choice. Everyone has the ability to be great, but they have to take those steps. As a person plans for their future, they keep their legacy in mind. Without it we lose our sense of love. Without purpose, relationships become tepid and lack meaning. When we accept our purpose and understand how to live a life with legacy in mind we'll know how to walk in love, how to love and how to be loved.
My sincere wish is for my family, friends and peers to see me and say I was someone who loved life, loved God and loved people. I want to be able to tell my children and my grandchildren tales of how amazing God is in my life. How he used me to better the world. How fear was never an option because my stability came from Jesus.
My legacy will not be the places I've traveled or my education level, but my legacy will lie in the way I treated people. My legacy will be determined on if I presented truth, if I had hope- even in the seasons where my life was less than ideal. It would depend on if I loved without reserve–if I didn't judge, but understood sin and pain and, as a result, loved unconditionally.

About the Photographer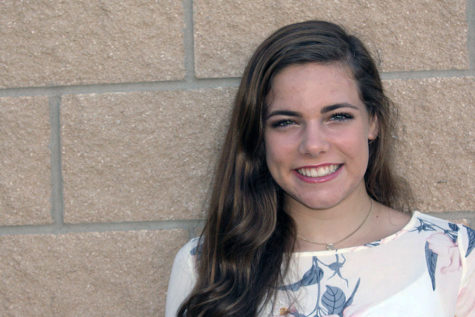 Mackenzie Grimes, Staff Reporter
Hey y'all!  I'm Mackenzie Grimes, and I'm a junior on the newspaper staff.  I'm involved in other activities such as cross country, track, Fellowship...