Juniors receive class rings in ceremony Monday, Feb. 22
Jostens will host the junior class ring ceremony Monday, Feb. 22 at 6 p.m. in the Canyon High auditorium.
To adhere to COVID-19 protocols, Jostens will be assigning seating arrangements and students will only be allowed to invite two individuals to the ceremony. The class ring ceremony has been an experience for students at Canyon High School since 2015.
"I'm excited to get a pretty big memory of my high school years that I'm going to have forever," junior Ryanne Higgins said. "In junior high, I thought it was going to take forever to get to a point to where I was thinking about graduating. Where I am now–getting my class ring and getting my letterman–I'm starting to do all the fun high school things everyone was talking about. It felt like it took forever to get there."
The ceremony is often seen as a stepping stone into senior year and provides an opportunity to start focusing on graduation, Higgins said.
"All of my sisters got the traditional ring," Higgins said. "I was on the fence about getting a class ring in the first place. I thought about getting one that's not as traditional and I put things like my favorite psalm on there as a reminder of my journey through grade school. It's more about the experience of designing your ring, getting to give your companion ring to someone you care about and being proud to have a ring."
About the Contributor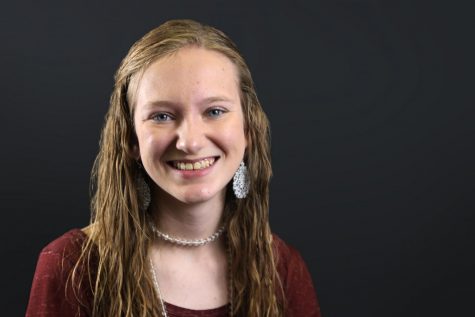 Laura Gill, Staff Reporter
Hey guys! My name is Laura Gill, and I am a junior. I am very eager to start my first year as a part of The Eagle's Tale staff! When I'm not developing my journalism skills, you can find me either in a practice room with my french horn, signing ASL...