Guide to quality quarantine
Editor-in-Chief offers ways to stay social, fit, entertained
As our world continues to face the outbreak of COVID-19, many individuals find themselves quarantined inside their communities, most of which have been empty since restaurants and businesses have closed, and homes with seemingly little to do. 
While TikTok or online shopping may provide amusement for a while, entertainment for the coming days and weeks may be lacking. It is essential to stay informed and serious about the current situation, however, in such a troubled time, entertainment becomes more necessary than ever before, providing an outlet for the anxious, lonely and bored.
"
Being at home can also provide an opportunity to try new things or hone existing skills."
— Claire Meyer, 12
For those looking to pass time digitally, many musical artists are hosting live stream concerts and Google Arts and Culture is hosting virtual tours of national parks and thousands of museums around the world for free. Many other attractions, such as historical houses, zoos and gardens are also supplying virtual tours. Streaming services are coming in handy with hundreds of movies and television shows to get lost in. Amazon Prime Video lifted it's paywall to numerous children's television shows, allowing it's customers to keep young individuals entertained. Many services have also released films just leaving or entering theaters, such as Frozen 2, The Call of the Wild and Star Wars: The Rise of Skywalker early.
Being at home can also provide an opportunity to try new things or hone existing skills. For those looking to learn how to cook, this website is a great place to start. Youtube and Skillshare also have countless videos on how to draw, paint, make clothes or jewelry, play an instrument and so on. There are even Youtube tutorials on how to make Youtube tutorials. It can be a struggle to start a new activity, but trying to improve on oneself is much more productive than simply passing the time scrolling through memes or, if one is really bored, playing Minesweeper.
On the topic of improvements, self-care, as cliche as it sounds, is extremely important during this time. Keeping negative thoughts at bay may be difficult, especially if one has seen the daunting headlines or spent any time reading articles over the current situation. Concern over one's personal health, or the health of loved ones, is completely understandable. However, exploring fun or soothing playlists on Spotify, curling up with a good book and a pet, or organizing the home may help soothe some aching worries. Quarantine should be taken seriously and is by no means a staycation, but a couple of days of relaxation could be just what is needed to keep minds clear and positive.
"
With the world beginning to shut down, nature is likely to thrive and revitalize. "
— Claire Meyer, 12
Keeping in shape can also be a way to stay calm and healthy during quarantine, however some individuals may not have resources to participate in traditional workouts. Darebee.com has a plethora of equipment-free programs and challenges for free. These workouts range from an easy, beginner level to more difficult, allowing for athletes of all kinds to participate. As an alternative to a strict workout, one can also go outside and take a run or walk, as long as it's a safe distance away from others. With the world beginning to shut down, nature is likely to thrive and revitalize. Now might be the perfect time to ride a bike, look at stars or have a picnic in the spring weather. Retracting from other people doesn't mean one must retract from Earth as well.
While social distancing is important, being social, in a way, is too. People everywhere are suffering from coronavirus in some way, it only makes sense to support one another during such a trying time. While social gatherings, especially those of the larger variety, are highly discouraged, FaceTime, Google Hangouts and Skype allow for safe face-to-face interaction. Social media platforms are a perfect way to keep friends updated on one's life, or to provide humorous relief in an otherwise difficult time. Even online gaming or chat rooms can offer togetherness and the opportunity to meet new people. 
It may feel strange to carve out a part of one's day to communicate with friends, but it may be vital to keeping relationships healthy and happy. Planning to sit down to talk for an hour or two with a buddy can keep both parties up-to-date and involved in each other's lives. Alternatively, there are ways to integrate individuals into your day in a more natural way. Simply videochatting while each party goes about their business can help add a feeling of normalcy and comfort. Another example of this is Netflix Party, a google chrome extension, which allows viewers to chat while watching shows together.  
The most important thing to do during quarantine, however, is remember how extremely important social distancing is. While the coronavirus has not yet taken a severe hold on the city of Canyon, it very well could. Social distancing is not only key to keeping Canyon safe, but also to helping "flatten the curve" and buy healthcare workers everywhere the time they need to get a handle on this devastating virus. 
Leave a Comment
About the Contributor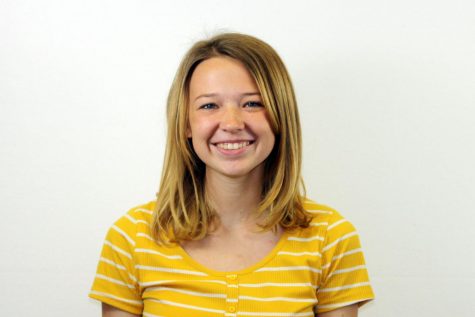 Claire Meyer, Editor-in-Chief
Hi there! My name is Claire Meyer. I am a senior, making this my third year on staff and first as editor-in-chief. When I'm not editing stories in the newsroom, I can be found working at United. In my free time,  I enjoy both drawing and writing fiction...