Trip to Ireland brings new insight
Hang on for a minute...we're trying to find some more stories you might like.
Some people spent their spring break playing video games or sleeping far past morning hours, but I somehow found myself in a cold ballroom in a hotel outside of Limerick, Ireland, thinking of the extensive history, rolling hills and sheep while listening to my bus driver plunk a few strings on his guitar and sing songs of his country.
My sister is involved in the Amarillo Youth Choir, and every few years, the group goes on a trip to a foreign country. This year, the destination was Ireland. I managed to convince my mom to let me tag along. I almost regretted it as I rode in a plane for 13 hours, but instead found myself stepping into a whole new world into one of the most surreal experiences I've had.
"
As I traveled through Ireland, I was continuously impressed by the beauty of the country. "
— Claire Meyer,10
My first memorable experience was later that first day, when I was jet lagged and ready to eat. The group had arrangements at a restaurant called The Merry Ploughboy Pub. The food was interesting to say the least, with strong flavors and hearty helpings. We were seated around long tables, placed in front of a stage where the Merry Ploughboys themselves would come out and perform later that evening. The band got everyone into the Irish spirit, having the crowd clap and sing along as they played on their instruments. That night, despite my exhaustion, brought a feeling of togetherness, which I would later learn sits at the heart of Ireland.
As I traveled through Ireland, I was continuously impressed by the beauty of the country. Whether it was exploring the crowded streets of Dublin, a total mixture but not clash of old castles and modern buildings, or walking on the Cliffs of Moher with the wind blowing on my face, the environment was breathtaking. The bus rides between cities showcased the beautiful landscapes of pure green sprinkled with dozens of sheep. Every once in a while, we would pass a graveyard, many of the headstones weathered by time.
One of my favorite places we visited was a small town a little ways away from Dublin called Laragh. The town was very rural, and to bring it together, a community center was built. I was touched by the stories which resided in that place. A little way down the road was a church surrounded with quiet gardens and a graveyard. With great surprise, I discovered a 9/11 memorial within the area. It had an Irish touch, as it was built with stone, but it was very intriguing to see another country give a nod to our tragedy. Laragh, with all its charm, gave me an interesting perspective on the smaller communities within Ireland.
"
Laragh, with all it's charm, gave me an interesting perspective on the smaller communities within Ireland."
— Claire Meyer, 10
However, by far and away my favorite thing about Ireland was something much less tangible than a trip to the cliffs. As I wandered through the country, I learned more and more about the history and hardships the people have experienced to get where they are today. In short, Ireland's revolution from England began in 1916. However, the cause did not gain support until their leaders were ruthlessly executed in Kilmainham prison. It seemed to me that Ireland was laced with the spirit of revolution and patriotism, despite it being a hundred years after the fact. They sing songs about their lost leaders, have art museums depicting their struggles throughout time.
My bus driver is a perfect example of this. He not only made the trip informative by sharing his knowledge, but he made it special when he invited the group to sing with him. Something about sitting in a circle with a group of people, singing the patriotic lines of the Irish national anthem, really impressed me and made me understand what a truly authentic country I was experiencing.

About the Contributor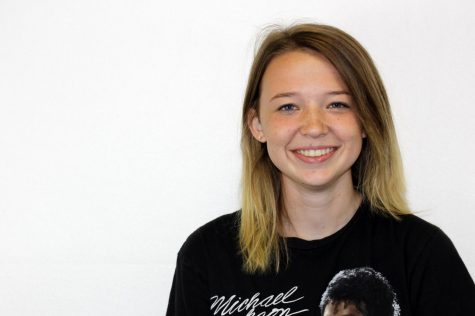 Claire Meyer, Associate Editor
Hey hey! I'm Claire Meyer, a junior. I am thrilled to be returning to The Eagle's Tale as associate editor. When I'm not practicing for UIL academics...