Dance like New York is watching
Junior accepted to Joffrey Ballet School Summer Intensive
In elementary school, junior McKinlea Kear declared her dream was to dance in New York City.
For more than a decade, Kear practiced. She drove to Amarillo several times a week for classes, then rehearsals, then performances. She rose through Lone Star Ballet's company hierarchy and snagged lead roles. She flipped through flashcards under the sweeping white of streetlights on the midnight car ride back home.
This summer, the dream will bloom into reality.
Kear earned a place in the Joffrey Ballet School Ballet Summer Intensive after auditioning Jan. 7. She will spend four weeks in New York City dancing Monday through Saturday at the camp and will perform twice.
"I want to soak up all that I can," Kear said. "I know I'm going to be nervous the whole first week, but I want to build relationships with these other dancers and teachers who will be there. I really want to advance myself in certain aspects of dance. I just want to experience what it would be like as a dancer."
Kear attended a two-hour audition at the Margo Dean School of Ballet in Fort Worth.
"It was in this itty-bitty studio with wooden floors," Kear said. "I've never danced on a wooden floor in pointe shoes, so it was very nerve-wracking. There were about 10 girls my age.
Kear was accepted two weeks later along with two other Lone Star Ballet company members. 
"
I've found my priorities lie in academics and dance."
— McKinlea Kear, 11
"The man who auditioned us is going to be one of my teachers," Kear said. "In the audition, you're really nervous, but I was really captured by the feedback he gave us in the auditions. It was like, 'Oh my gosh, I get to work with him for four weeks.'"
Kear said she became very focused through balancing school and dance since intermediate school.
"I've found my priorities lie in academics and dance," Kear said. "No matter how late I have to stay up or how early I have to get up or how many teachers I have to go to because I'm like, 'I need help,' I will do whatever it takes to do well in school. School comes first."
The camp's focus is ballet, but it will also feature other styles such as jazz, modern and contemporary.
"It will hopefully progress my training and my strengths as a dancer enormously," Kear said. "I'll get to train with world-renowned instructors and amazing dancers, and it will be ridiculous and amazing. Hopefully, I'll see if I want to do this with my life."
Kear said she looks forward to experiencing New York City.
"That's been such a dream forever," Kear said. "I'm going to go to New York, and I'm going to be a dancer. The fact that this is coming true is beyond ridiculous."
Leave a Comment
About the Contributor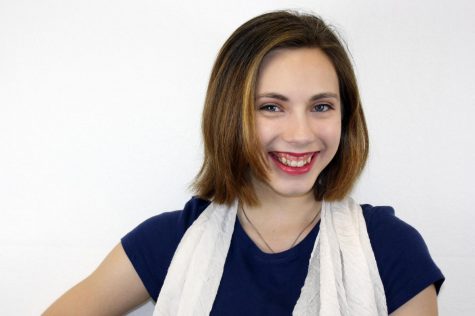 Erin Sheffield, Editor-in-Chief
Hullo! I'm a senior in my third year on staff and my second year as an editor-in-chief. You can catch most of my work in the news and blogs sections. When I'm not around the school with a camera and a press pass, I spend my time in choir, musical, various...