At the plate
Varsity baseball teammates share walk-up songs
Sun shines over the field, bringing warmth into the dugout. Players line the wall as one puts on a helmet, grabs a bat and walks onto the red dirt.
"We're gonna have a good day, and all my homies gonna ride today, and all these mommies look fly today, and all we wanna do is get by today," plays over the speakers as the announcers call out the next batting player.
The player reaches the plate and the song ends as he lines himself in the batter's box.
Throughout baseball history, the stands have sung numerous songs throughout the game. As time progressed, teams hired pep bands. The organ was seen on the field for the first time at Wrigley Feild in April 1941. The organists and pep bands played the "classics" of the field such as the "Star-Spangled Banner" and the iconic "Take Me Out to the Ballgame." The basics changed when Nancy Faust joined the White Sox in 1970 as an organist. As she played, Harry Caray broadcasted the game over the radio. Faust had a radio beside her throughout the games, listening to Caray's play-by-play, gaining music inspiration to perform in the games from his slang.
Eventually, Faust took it a step further, playing specific songs for each player as they approached the plate. Thus, the walk-up song was born. As technology progressed the stadiums would play the anthems over speakers and eventually recorded music as their players walked to the plate in the early 90s. As each player steps up to the plate, 15-30 seconds of a song plays over the speakers, introducing the player to the audience. The walk-up tradition is seen even in high school baseball.
Senior Jack McKay said he picks his song to put himself in a specific mindset before his turn at the bat.
"You always want it to be something that either hypes you up, or puts you in a good mood," McKay said. "Trent's [Hefner] is 'Good Day,' and it's a good vibe song and kind of funny. I think some of the times, people want metal because they need to get in a certain mindset. We like songs that sound happy and fun to put you in a good mood going up. It sets the tone for that."
Hefner, a senior and catcher for the team, said the walk-up songs tell other players and the audience about the athlete.
"They're a little different," Hefner said. "Depending on what kind of song they play, you can tell a little bit about their personality. You have a guy come up, and they're playing some hard rock song, and they're trying to get pumped up, they're a really intense person. Another part of the atmosphere of the baseball field is hearing the songs."
"
You always want it to be something that either hypes you up, or puts you in a good mood."
— Jack McKay, varsity baseball player
Hefner said he uses walk-up songs as a means of identifying other players during away games.
"Honestly, it helps," Hefner said. "I hear the walk-up song, and I'm like, 'Okay, this kid had it to this place last time; this kid, so we need to throw this pitch and get him out.'"
During games, McKay said the songs will help the batter and his teammates keep a flow with each other.
"It puts you in a rhythm," McKay said. "In basketball, when you shoot a free throw, you bounce the ball–it's the same thing. If you're playing a home game and every time you've got that same song, same rhythm, I'm not going to say makes it easy to hit, but it puts you in a rhythm to hit better. It also puts everyone in a better mood and it's part of that home-field advantage."
Varsity baseball walk-up songs
#1 Kolton Clements–'"All That" by Tray Jack
#2 Catch Brown–"Fireflies" by Owl City
#3 Parker Williams–"Little Bitty" by Alan Jackson
#4 Tucker Livermore–"Gasolina" by Daddy Yankee
#5 Jack McKay–"The Way I Live" by Baby Boy Da Prince
#6 Ryan McAffrey–"Isn't She Lovely" by Stevie Wonder
#8 Brody Cook–"Hips Don't Lie" by Shakira
#9 Ben Black–"Scotland the Brave" by Drums and Pipes
#10 Brandell Barrett–"Green Onion" by Booker T. & the M.G.'s
#11 Trent Hefner–"Good Day" by Nappy Roots
#12 Jace Owen–"Doubt me Now" by Cody Johnson
#15 Landon Finke–"Headstrong" by Trapt
#17 Sam Williams–"Big and Chunky" by Will.i.am
#18 Mason Alley–"We Are the Champions" by Queen
#19 Markus Barker–"Walk This Way" by Aerosmith
#21 Camron White–"Black Dog" by Led Zeplin
#22 Blade Beaty–"Sunday Best" by Surfaces
#23 Jimmy Lemmon–"Nottingham Lace" by Buckethead
#24 Reid Rousser–"Small Town Throw Down" by Brantley Gilbert
Leave a Comment
About the Contributor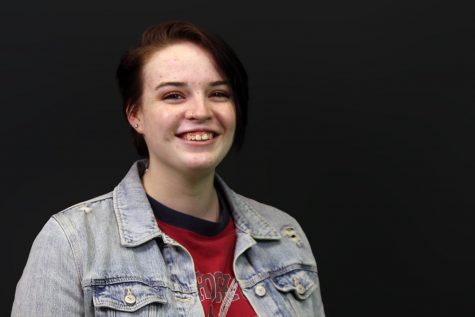 Alyssa Seaton, Staff Reporter
What's up? My name is Alyssa Seaton. I am a senior in my third year of journalism, and I am a co-editor-in-chief of the Soaring Wings Yearbook. In the little spare time I have, I write for The Eagle's Tale. I enjoy taking pictures above all else because...