Volleyball team set for new 4-A season
The volleyball team will compete in their first tournament this season this weekend, Aug. 9-11 in Mansfield.
Seniors Hallie Lackey and Madison Jones lead the team coached by Sara Morath. The team will play former 5-A opponents, Randall High School, on Aug. 14. The first district game will be at Lubbock Estacado Sept. 22 at 1:00 p.m.
"Working hard this year is huge, but it is definitely not a problem for this team at all," Lackey said. "Staying positive and discipline is something we've been working on in pre-season."
This year Canyon High School will compete in the 4A classification, and the volleyball team will face Hereford, Lamesa, Levelland and Lubbock Estacado in district play.
"
If you want to beat good teams you have to play good teams."
— Madison Jones, 12
"In our upcoming season, we have a pretty tough district, but we also scheduled some of our former competitors," Jones said. "I think all the programs here have deep traditions. We are playing some of our old 5A competitors because if you want to beat good teams, you have to play good teams."
Jones, a returning varsity player, will position as a defensive specialist this season.
"One thing in pre-season that we have been working on is our serve receive and passing and the first touch on the ball to be perfect so we can set it up and have an offensive play," Jones said. "My main job is serve receive, so I am working on being a better passer."
Junior Emma Crenshaw will return as an offensive hitter and said she has been working on hitting through the ball.
"
We've been doing lots of agility type stuff getting ready for the season."
— Emma Crenshaw, 11
"I will be strong offensively if I learn to build up and be more explosive," Crenshaw said. "We've been doing lots of agility type stuff getting ready for the season."
Crenshaw said she thinks the Mansfield will be good for team bonding and give them good competition before the upcoming season.
"On the court we've been working on better ball control and we have stacked hitters, so everything will fit together," Crenshaw said. "I think our first goal would be trying to go to the regional tournament because our region is pretty good, but we need to beat teams like Decatur."
Lackey said the team has big hitters to utilize this year and a strong back row as well.
"Volleyball is a lot of communication skills, and problem solving when something goes wrong," Lackey said. "Volleyball wouldn't work if we didn't have good team chemistry."
About the Contributor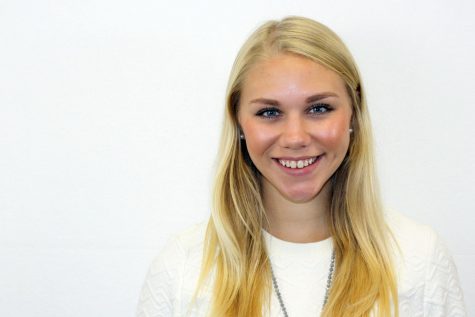 Faith Douglass, Sports Editor
Hey, I'm Faith Douglass! I am a senior this year, and this is my second year in newspaper. I play basketball and run cross country and track. I am in Student Council, Decide to Defy, Fellowship of Christian Athletes, LEAD, National Honor Society and...