Eagles end season in 45-14 loss to Lake Dallas
The varsity football team competed against the Lake Dallas Falcons in Wichita Falls on Saturday, Nov. 12.
The Eagles fell behind in the first quarter, down 17-0 after 12 minutes. Senior quarterback Travis Cosby connected with senior wide receiver Isaac Williams for a touchdown to close the gap to 17-7 with 9:35 left in the second quarter. The Eagles stopped Lake Dallas in two consecutive possessions when senior cornerback Will Toliver intercepted a fourth-down pass and the defense won a turnover on downs from within 10 yards of their own goal line. However, the offense did not capitalize on opportunities to gain ground on the Falcons and went silent. Lake Dallas senior quarterback Dalyn Williams rushed for two more touchdowns before halftime, 31-7 Falcons at the half.
Lake Dallas running back and punt returner Dontonio Jordan rushed for a 49-yard touchdown to increase the difference to 38-7. Williams connected with receiver Tyler Vance for his fifth and final touchdown of the day, third passing. Cosby rushed for a one-yard touchdown, the only Canyon score on the ground, but without enough time to come back, the final whistle blew on the Eagles' season as they lost 45-14.
The Eagles end their season in the bi-district round of the 4A Division II playoffs at 5-6. This includes a district season where they earned fourth in District 3-4A and claimed the final berth in the playoffs.
Leave a Comment
About the Writer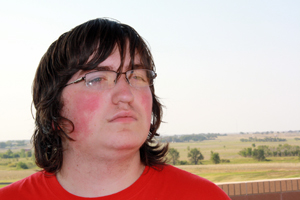 Trevor Ferril, Associate Editor
I am Trevor Ferril, senior and associate editor for this year's Eagle's Tale staff. This will be my third and final year on staff and my second as an editor. Right now, my interests include most of my classes, mafia (the game), videogames, music,...