UIL One-Act cast, crew to present public performance Monday, April 29
The UIL One-Act Play cast and crew will perform a public showing of "The Curious Incident of the Dog in the Night-Time" Monday, April 29 at 7 p.m. Admission is free, but monetary gifts given to the program will benefit Canyon High School's Special Olympics Unified teams.
The team advanced to the region level and placed third Tuesday, April 16, making it the alternate cast to state. The show follows Christopher, a teenage boy with autistic tendencies, as he navigates the world. Theater teacher Kylie Howell directed the play alongside junior high theater director Julie Solomon and student teacher Kennedy Delgado.
"I thought it would be a good fit for the students auditioning," Howell said. "It's a little bit outside of our comfort zone as it's an abstract piece, but as a director you ask, 'Why this show now?' I thought the show would be good to show that there are people living in and around us all the time who have different struggles or see the world a little bit differently than we do, but they are valuable and intelligent. They have their own way of doing things. Sometimes it's our job to see what that is and to understand them."
A requirement of One-Act Play is the show must be under 40 minutes long with a 7-minute set-up before and a 7-minute tear down after the show. Howell said the format creates challenges.
"It is a 40-minute play, so we are cutting down quite a bit to do the scenes from the selection," Howell said. "Which scenes do you include? Which ones are the most important ones to tell the story? We have a lot of students who are involved in a lot of different things, so juggling schedules and time, and also there was dialect work with this piece. There is an ensemble with this piece that we didn't typically have in the past."
Auditions for One-Act began in December. After the cast list posted, cast and crew members rehearsed every Monday, Tuesday and Thursday from 6:30 to 9 p.m.  Senior Nolan Quintanilla, who plays Christopher, said the group is close because of all the time spent together.
"
There was a lot of love this year for the art, for the dynamic and for the experience."
— Nolan Quintanilla, 12
"People have compared us to siblings to point of where we argue like siblings," Quintanilla said. "I love it because it means that we're passionate. It was such a cool, amazing process to see everybody fall in love with the show as much as I did. The whole ensemble was Christopher as well, so they fell in love with him, too. They got to experience everything as he did. There was a lot of love this year for the art, for the dynamic and for the experience."
Quintanilla said the way the show portrays the characters and relationships makes it easy for the audience to follow the story.
"We make it easy for people to understand what's going on especially with the ensemble portraying every single emotion Christopher is going through," Quintanilla said. "They get to see both sides of how he's feeling."
Howell said people should attend the show because it conveys a message of hope, possibilities and bravery.
"We are opening up for a voluntary monetary gift if someone would like to contribute to the Canyon High Special Olympics team," Howell said. "We thought that would be fitting because of the content of the play and the idea that you can do anything. That's the last line Christopher says–spoiler alert–he says 'Does this mean that I can do anything?' Anyone can do anything."
Leave a Comment
About the Contributor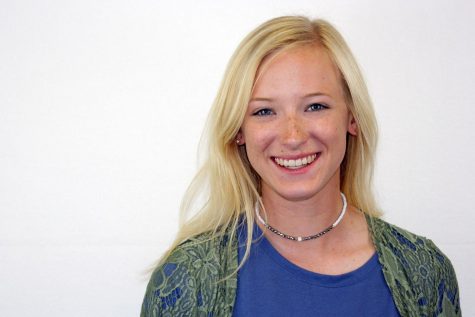 Katelyn Spivey, Editor-in-Chief
Hi there! I am a senior, and this is my third year on staff and second as editor-in-chief. I am choir president and a member of the varsity and show choirs, and in theater, I participate in musical and the One-Act Play competition. I am a self-proclaimed...