Band to play concert, sightreading pieces at regional contest
Hang on for a minute...we're trying to find some more stories you might like.
The honor and symphonic bands will compete at UIL Region Concert and Sightreading competition Thursday, April 19 at Randall High School.
The symphonic band will compete at 9:15 a.m. and the honor band will compete at 3:10 p.m. Band director Mike Sheffield will conduct the honor band and assistant band director Luis Hernandez will conduct the symphonic band.
"We select three pieces to perform on stage, in front of three judges," Hernandez said. "Once we finish that, then we go to the sight-reading room, where we are given a piece we've never seen before. My band gets seven minutes to examine the piece, and then without running through it at all, we go."
"
We get to see them develop from sort of struggling through the music to actually doing a really good job."
— Luis Hernandez, assistant band director
One of the pieces the symphonic band will perform was written by Canyon Junior High teacher Eric Rath.
"We're premiering a piece by Mr. Rath that's never been played at contest," Hernandez said. "We submitted one of his pieces to the UIL committee and they said 'yes you can play it.' We're really looking forward to doing a good job on that."
Hernandez said that although the symphonic band performs less difficult music than the honor band, he still selects music that will increase the musicians' skills.
"I enjoy working the kids and the music," Hernandez said. "We get to see them develop from sort of struggling through the music to actually doing a really good job. Some years are even better than others. The honor band, for example–this year they are just doing phenomenal."
Senior Braden Lefevre plays alto saxophone in the honor band.
"I think we're playing a great program this year," Lefevre said. "There's a lot of great soloists, a lot of great quiet moments that contrast with some of the louder, more bombastic moments for some nice variety."
The honor and symphonic bands have been practicing with morning sectionals and Monday night rehearsals since February.
"I'm not one of those people who enjoys performing," Lefevre said. "Some people are like that; they're rockstars. I'm more of a person who enjoys practicing, playing it with not a lot of pressure, but then once we get to the performance, I want to get it over with and do it to the best of my ability."
Lefevre has been drum major for the marching band since his junior year.
"A lot of people, from an outside perspective, see the marching band during football season and they think 'that's band,'" Lefevre said. "After Marching season is over, we move on to concert season. Mr. Sheffield takes over directing and drum majors pick up their instruments, color guard people pick up their instruments. We all come together in a concert setting to make music in a different way."

About the Writer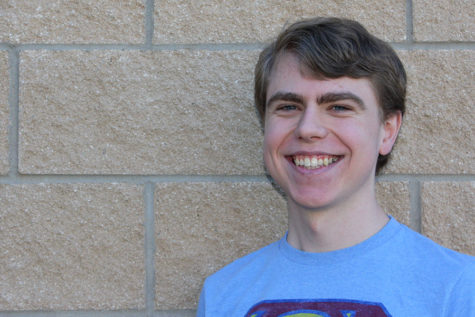 Jaren Tankersley, Co-Editor in Chief
Salutations, I am Jaren Tankersley. I am a senior, and I am very excited to spend my third and final year on the Eagle's Tale staff as Co-Editor-in-Chief....