Thirty choir students advance to region auditions
The 30 choir students who made the all-district choir will advance to all-region auditions Oct. 29.
District choir auditions are the first part of the all-state choir process, with regional choir auditions after all-district. Twenty-eight Canyon students made the choir with an additional two placing as alternates.  Junior Claire Horn made it to area choir last year and placed first chair at this year's district audition. Horn says the hardest part about the process is the long days spent auditioning.
"
Learning the music is making me better as a musician and is taking me down new paths."
— Claire Horn, 11
"Scores don't matter. Making the choir doesn't matter. It's the musical journey that matters," Horn said. "Learning the music is making me better as a musician and is taking me down new paths."
More than 500 students attended the audition.  All-district choir has no performance or concert, and its purpose is to begin the steps of narrowing down the competition for future auditions during the all-state process, which consists of district, region, pre-area and area. Junior Mitchell Hernandez made the All-State Choir his freshman year.
"You have to work hard at what you love to do and you have to work harder than all the other people in your section that you're competing against," Hernandez said. "Don't act like you're going to make it because there's no guarantee you will."
Students are required to learn new music for each set of auditions. In the audition room, students sing parts of the music they have learned. At every audition after district, students also read a piece of music they have never seen before, following a 30 second review of the piece.
"It's not about being a great singer," choir director Brandon Farren said. "It's about being a great musician and putting yourself above the others."
Results from all-district choir auditions:
Soprano 1
Audrey Hughes-5th chair
Krissy Niles-8th chair
Braelly Jones-11th chair
E'lyse Niles-12th chair
Erin Sheffield-13th chair
Tori Ross-14th chair
Soprano 2
Katelyn Spivey-11th chair
Madeleine Farren-12th chair
Emily Tull-19th chair
Alto 1
Meghan Brooks-13th chair
Callie Boren-15th chair
Emma Sheets-16th chair
Katelyn Donais-17th chair
Mia Bonds-19th chair
Alto 2
Claire Horn-1st chair
Rebecca Granda-6th chair
Kaleigh Rodarte-Suto-14th chair
Rilae Crow-17th chair
Tenor 1
Kaleb Donais-4th chair
Nolan Quintanilla-12th chair
Tenor 2
Mitchell Hernandez-1st chair
Christian Theiss-4th chair
Bass 1
Nathan Solomon-5th chair
Mark Porter-7th chair
Brylee Walker-8th chair
Tobin Brooks-10th chair
Ryan Boren-14th chair
Bass 2
Conner Nall-3rd chair
Josiah Dye-4th chair
Isaac Kizziar-14th chair
Leave a Comment
About the Contributor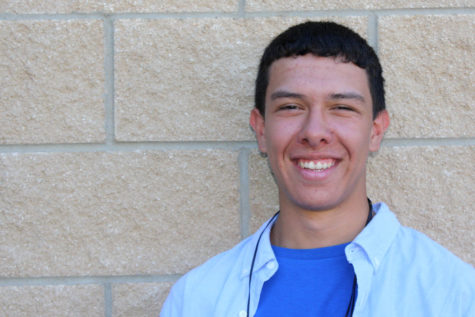 John Flatt, Video Editor
Hey there, I'm John Flatt, the video editor for The Eagle's Tale. I play the alto saxophone in the band, I'm an Eagle Scout, and I'm looking forward to spending this year with all my friends here on the newspaper staff.  I hope to entertain and...