'Winter Solstice' takes band to high point
Soaring Pride to march in state competition
So many events led up to this moment. The first day of marching in the early August heat. Every morning rehearsal before the sun was up and every evening practice long after the sun had set. Each parade and each football game. But the most exciting event is yet to come: the Soaring Pride Band is going to state.
Nearing the end of their award winning marching season, the Soaring Pride Band traveled to Ratliff Stadium in Odessa on Oct. 24, where they competed in the UIL Area A Central 5A Marching Competition. The band's show, "Winter Solstice," received a first place rating from all five judges at the competition, qualifying them to compete for the first time in nine years in the UIL State Marching Contest set for Nov. 3 at the Alamodome in San Antonio.
"
I think that our success at area really proves how much hard work and time that we have put into our program this year."
— Jay Mudge
"Before Area, I was incredibly nervous," band director Mike Sheffield said. "None of us knew exactly who was going to be there or what to expect. I was and still am pleased with the way we prepared. I was just really anxious until we hit our warm up, and then I knew that we were going to be good today, and sure enough we truly did perform well. When I finally got the news that we had placed first, I was absolutely elated."
Sheffield said the band owes much of their success to all those who have helped the Canyon band program throughout the season.
"The band owes their success to a lot of different people," Sheffield said. "I feel like I'm the most visible person in a large team of individuals that work hard to make this band great. If our drill writer, Eric Rath, the visual designers, the administration, the parents and all of our assistant directors were missing from this program, the band would simply be incomplete."
Sheffield also said the band has been successful this season because of Soaring Pride members reevaluating the standard of excellence.
"Some things definitely worked out for us behind the scenes this season," Sheffield said. "However, we had to build up to this new level of expectation with a lot of hard work. We've increased our practice hours, and this band also isn't afraid to try some new things and work harder, which has made all the difference. Those qualities got us ahead early on in the season and helped us to polish the show with a greater level of detail than ever before."
Senior loading crew captain and first chair baritone saxophone Jay Mudge said he is proud to be part of the Soaring Pride Band.
"I think that our success at area really proves how much hard work and time that we have put into our program this year," Mudge said. "We've all worked so hard, and I'm so glad that our band has the opportunity to compete at State. Advancing to this competition also shows how much our band has improved since I was a freshman. It makes me proud to say that I have helped this band grow into what it is."
Senior leadership team member Braden Miller said he feels confident in the band's preparation.
"We've just worked so hard for this, and I know for a fact that this is the most tired I've ever been in my life," Miller said. "However, now that we've been this successful, I wouldn't have it any other way. I've been a part of this band for four years now, and I am so glad that we are this successful."
Sheffield said his band will face challenges in the new venue.
"At the state marching competition, we are just going to be as uniform as we possibly can," Sheffield said. "I think we are actually going to ramp up our show even more for this final performance. I know one of our biggest obstacles will be the actual stadium we will be performing in — the Alamodome. The stadium is actually an acoustic nightmare to perform in due to the echo of sound, but I think we'll be able to manage."
Sheffield said the band's victories are a validation of their hard work.
"Our success confirms that we are doing the right things," Sheffield said. "It's always frustrating to put your heart and soul into something and not make it to the end, but we did. We got out what we put into this, and that's an incredibly moving victory."
Leave a Comment
About the Contributor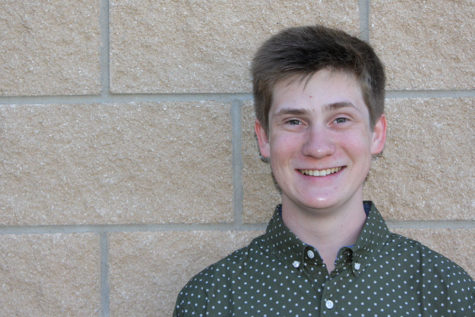 Braden Lefevre, Associate Editor
Hey there! I'm Braden Lefevre, and I am a senior at Canyon High. This is my third and final year to serve as a member of The Eagle's Tale Staff, and I am elated and honored to serve as an associate editor of this stellar publication. I am also the...