Team CHS forms for Relay for Life
People gather around a concrete track as the sun falls below the horizon. Step after step, they make their way through the energetic atmosphere. Friends and families pass small, decorated paper bags lining the track. Each bag, or luminaria, contains a small candle and bears the name of a friend or family member who has been diagnosed with cancer.  Unlike most marathons, this relay is filled with remembrance of those who could not be there, a celebration for those that could and hope for a cure for cancer.
The annual Canyon Relay for Life will be Friday, April 11 from 7 p.m. to 7 a.m. at the WTAMU Sports Complex in the Grand Lawn. Relay for Life is the American Cancer Society's largest fundraiser. This year, the Key Club and Student Council teamed up to create Team CHS.  
"We are really excited this year about merging teams," Student Council president Matthew Snell said. "Our school has rallied around cancer survivors before, and Relay gives students the opportunity to help remember and celebrate those cancer survivors by participating in Relay."
Key Club president-elect Kassi Price said the merger has helped them focus on fundraising together. Each team can have off-site fundraisers before the Relay and on-site fundraisers during the Relay itself. Many teams began several months ago in preparation for the event.
"We have been preparing for the Relay for Life since the beginning of January," Price said. "Many teams start their fundraisers long before the Relay even begins. Because of this, the Relay for Life of Canyon has already raised over $20,000."
Price said all of the fundraisers have been successful.
"Our first fundraiser was the Friday Project, which had outstanding results," Price said. "The Friday Project raised an incredible $1,227.54 in four days. It had the best turnout of our fundraisers in the past few years. We also had a hat day sponsored by Student Council, which raised $203."
The choir is also participating in the off-site fundraising. Choir president Morgan Finke helped initiate a competition between the different sections in choir to raise money for Team CHS.
"We talk so much during choir about us being a community and a family," Finke said. "Giving back to the community that has formed the people in our choir is really important to the choir as a whole and that is why we decided to help out at the Relay for Life."
Team CHS will be selling survivor kits for their on-site fundraiser at the Relay.
"All of the items in this kit represent the journey through cancer," Kassi Price said. "The kits will have candles to light their way, Hot Hands to keep them warm when the night descends, crackers and water to keep them full, Germ-X and Kleenxes to keep them hygienic and finally a journal to document their journey."
Price said she, like many Relay participants, has had family members diagnosed with cancer.
"When I was little, my grandmother was diagnosed with colon cancer and passed away in 2004," Price said. "I Relay to honor her memory and to support other families in their battle with cancer. I am so proud that I can be a part of this amazing charity. This is the best fundraising turn out we have ever had for the Relay for Life."
The entertainment for Relay this year includes several different live bands, Zumba, food and drinks, as well as several themed laps sponsored by teams. Admission is free, but all donations are welcome and all proceeds will go to the American Cancer Society.
"Relay for Life provides the opportunity for the community to publicly honor and remember friends that have either had or survived cancer," Snell said. "Everyone in the community is welcome to come and all of the donations go towards the American Cancer Society."
Leave a Comment
About the Contributor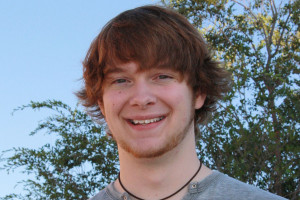 Josh Collins, Associate Editor
This one time, in Australia… Hello everyone! My name is Josh Collins, and I am an associate editor. I am a senior at Canyon High and am involved with several clubs and organizations. I am the president of Key Club, the president of National Honors...