Key Club warms holiday season with childrens' blankets
Snip. Snip. Left over right. Through the loop and pull. Snip. Snip. Left over right. Through the loop and pull. Key Club members sit on the carpeted floor for hours, slowly cutting away at fabric to create blanket after blanket. By tying hundreds of knots, Key Club members are fighting off the cold winter for children in the area.
The third annual Key Club Christmas Social will be held Saturday at President Josh Collins' house from 7 to 10 p.m. Every year, the social is held to create blankets for children staying at the Rainbow Room in Amarillo. The Rainbow Room is an emergency resource center that provides items for Child Protective Services such as diapers, formulas, clothing and many more.
"It's their Christmas present from us," junior Kassi Price said. "We give them to the children to keep, to hold no matter where life takes them."
Last year, the Key Club cut and tied over 60 yards of fleece making more than 30 blankets for the Rainbow Room.
"The blankets are really soft and not very hard to make," Price said. "We start with two yards of fleece. We cut little strips out of the edges and then tie them together. After a few hundred knots, you have a soft and durable fleece blanket."
Price is currently on her second term as Key Club Historian and has been a member since freshman year. She said she will run for president in the spring.
"This year, we hope to be able to make more than thirty," Price said. "We are always thinking of new ways to get our members involved in the community and this has always been one of my favorite."
Leave a Comment
About the Contributor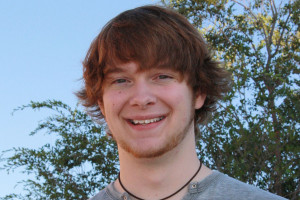 Josh Collins, Associate Editor
This one time, in Australia… Hello everyone! My name is Josh Collins, and I am an associate editor. I am a senior at Canyon High and am involved with several clubs and organizations. I am the president of Key Club, the president of National Honors...