In the Pink
Senior celebrates mother's recovery
Logan Hinders walked by another booth selling more Pink Out shirts. The Pink Out pep rally and game were the very next day, but Logan had no intention of participating or even attending. Tomorrow was just going to be another day. However, within 24 hours, those pink t-shirts would mean his mother's life.
Logan, now a senior, found out his mother, Nancy Hinders, was diagnosed with stage IIIC breast cancer in October of 2012. The next day was the community Pink Out Pep Rally and football game to support breast cancer awareness and research.
"That Thursday, it sounds terrible, but I didn't buy a Pink Out t-shirt," Logan said. "I just didn't want to. I didn't see the need. I wasn't even going to the football game. I wasn't near anyone affected by breast cancer."
Logan said he remembers the very next day his entire world and perspective was turned upside down.
"All of the sudden just a simple pink t-shirt meant the world to me," Logan said. "That symbol and that shirt was for my mom. I remember walking to that pep rally and seeing a wall of pink shirts that the day before didn't mean anything to me at all. Now, that was my mom represented on that shirt."
The day Logan found out his mother had cancer, he said he knew something was off about his parents, but he had no idea what they were going to tell him.
"They sat me down and just looked at me and said, 'Logan, we spent all day at the doctor and your mom has cancer,'" Logan said. "That one sentence changed my life. I didn't know what to expect. It made me wonder how much longer I would have with my mom."
Logan said he remembers all the feelings that overcame him that day and during the months that followed.
"
We have to do our best to enjoy every single moment we have with someone.
"The first moment was quite a shock," Logan said. "I had no idea what to think and that lasted days, weeks actually. Then it was a mix between a flashback of all the moments with my mom and then also what's going to happen. I started asking myself all these questions that I couldn't answer."
Stage IIIC breast cancer is the before stage IV, the final and most deadly stage of breast cancer. Logan said he prepared for the worst.
"While I was deciding how I was going to spend what could be my last moments with my mom, I realized I just wanted to be with her," Logan said. "It didn't matter how. As soon as you think your time is limited with someone you want to spend every moment with them and cherish them."
In late October 2012, Nancy started chemotherapy.
"It was really hard to see," Logan said. "I didn't think it would affect her that much, but as she went through chemo, I watched her slowly decline and lose her hair, which was something I was not prepared for."
In May, she had surgery to remove the remaining tumors. In June, she finished radiation treatment.
"I remember when my dad texted me the picture of her outside the door of the radiation entrance with her arms up showing her muscles," Logan said. "She was finished with radiation. She was cancer free. It was gone. It was just a sigh of relief."
Logan said his mother's strong Christian faith and trust in God helped her through her entire ordeal.
"Seeing her faith through the whole process was a huge deal," Logan said. "The fact that the first thing she said was, 'God knows what's in store and we will just have to trust Him through the whole thing' was proof."
Logan said as his own faith faltered at times, his mother's faith grew.
"She trusted Him more than I did through the entire process," Logan said. "Seeing her grow in her faith pushed me to do the same. That she could go through something like that and still trust God is inspirational."
Almost a year later, Logan said he looks back and remembers the lessons he has learned.
"It made me realize that our days with the people that we love are numbered." Logan said. "We have to do our best to enjoy every single moment we have with someone."
Leave a Comment
About the Contributor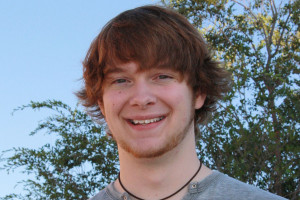 Josh Collins, Associate Editor
This one time, in Australia… Hello everyone! My name is Josh Collins, and I am an associate editor. I am a senior at Canyon High and am involved with several clubs and organizations. I am the president of Key Club, the president of National Honors...