Fifth annual 'Eagle Idol' raises $1400 for foundation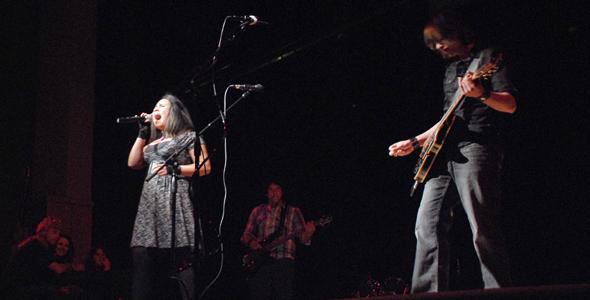 A record number of 21 acts auditioned to win one of the five finalist spots in the annual Eagle Idol competition Friday, March 9. Students competed to raise money for the Education Foundation and were awarded prizes sponsored by the foundation and D-Fy-It.
Master of ceremonies and choir director Brandon Farren coordinated auditions early in the week and the five finalists were announced Thursday, March 8.
 "I think it was the strongest field of finalists we've ever put on the stage," Farren said.
The band Formal Straight Jacket with juniors Alegria Castro, Phillip Tijerina, Cory Sampson, Pedro Garcia and Talyn Duncan took top honors. Sophomore Sarah Williams placed second, the duo of seniors Diego Dominguez and Brandon Tidwell placed third, Hunter Kershen placed fourth, and J3+2 placed fifth with seniors Jenci Jones and Janae Robinson, and juniors Jessica Crump, Rachel Smith and Abigail Walsh. The prizes included an Xbox 360, a flat screen television, iPod speakers, and gift cards to Wal-Mart.
"It was a lot of fun but it was nerve wracking getting ready," junior Alegria Castro said. "My favorite part was just being able to sing in front of my peers with my friends for fun."
A student jazz band opened the show while students were being seated. After the finalists performed, sophomore singer Riley Kelly, accompanied by sophomore Kori Adair on the piano, entertained the crowd by performing "Turning Tables."
 According to Education Foundation spokesperson Delores Fincher, the competition raised more than $1400 for the foundation, which provides supplies and equipment for teachers across the district.
About the Writer
Morgan Hicks, Yearbook Co-Editor-in-Chief
Hi! I am co-editor-in-chief of the Soaring Wings Yearbook. I participate in UIL academics, chorale, musical and National Honor's Society. I love sarcasm, long walks around the panhandle and '80s teen movies.